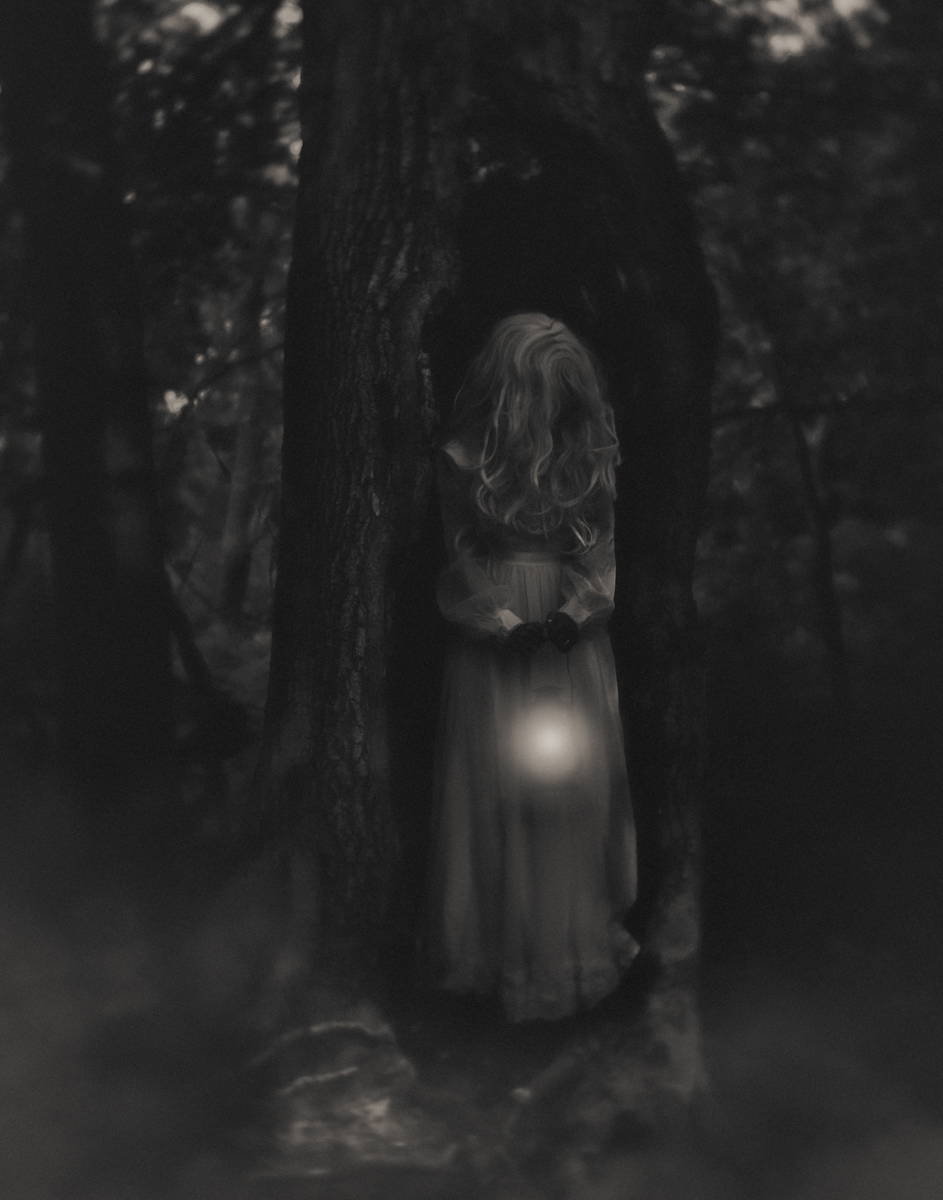 ---
It's my favorite time of year, the season of the witch! It's a time where the animals work hard preparing for the upcoming winter, gathering nuts, seeds, and gifts from Mother Nature- all as a part of the cycle. The trees and foliage put on a fiery show before they go into a deep slumber, preparing to regenerate once again. There's a crisp breeze in the air and a crackle of leaves under our feet. The veil runs thin, and life and death intertwine and mingle with one another. It's also a time where anything goes when it comes to being strange, odd, or spooky with your art. It's an open invitation, and we should take full advantage of it! Here are five tips on how to create ghostly and mysterious portraits.
1. Use timeless clothing.
I try to use clothing that shows no identification of time. I also tend to favor clothing that is black and white and has no patterns on it. I want my work to tell a story and do not want to distract the viewer with flashy clothing. I find the bulk of my dresses at second-hand and antique shops. Old wedding dresses and veils are fantastic for spooky and ghostly portraits! Capes work very well also. Try an old suit for men and add a top hat. You can find amazing deals at antique and second-hand shops for this type of clothing. You also can't go wrong paying a visit to your local Halloween store during this time of year.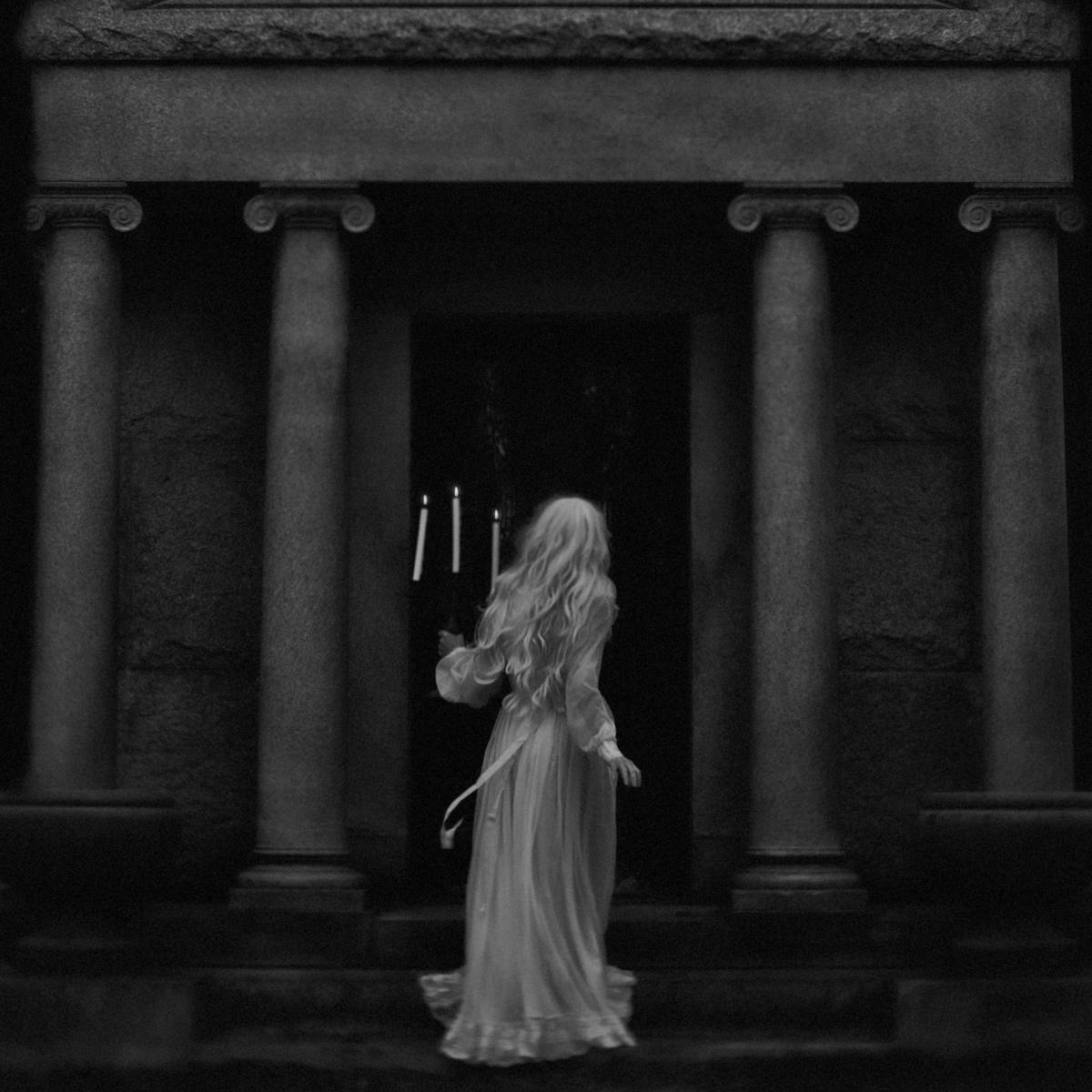 I think of ghosts, witches, haunted locations, and eerie woods when I think of this season. Use this as an opportunity to get outside and explore new places. Be respectful of cemeteries and mindful of rules. Always be safe when exploring abandoned places. Head to a local trail, and don't forget to bring some props. Items like pumpkins, candles, masks, wigs, lanterns, brooms, crystal balls and smoke bombs are great ideas and will help to add a spooky atmosphere.
The idea of long exposure or slower shutter speed is so intriguing. Instead of freezing a moment instantly, you are capturing the time and movements between two moments. It's fascinating knowing that your thoughts, feelings, breath, heartbeat, movement, and life are all caught in an image over a period of time.
To create haunting long exposures, I like to use a shutter speed somewhere around 10 seconds long. I will press my timer button and quickly get into position. I count to 5 in my first position and then quickly get into the second position for the remainder of the 10 seconds. I have 10 seconds total to split up. The results will be two ghost-like figures of me in the same image.
Some tips to keep in mind when trying this technique out are as follows:
Since a longer shutter speed captures movement much more easily, try to be as still as possible in each position. Movement equals blur.
The longer your shutter is open, the more versions of your subject can be captured in the same frame. The most I have done is three positions in the same shot.
Having your camera's shutter open for such a long period of time lets in a large amount of light. To achieve these longer shutter speeds, it needs to be nearly dark outside, or you can use a neutral density filter on your lens to darken the exposure.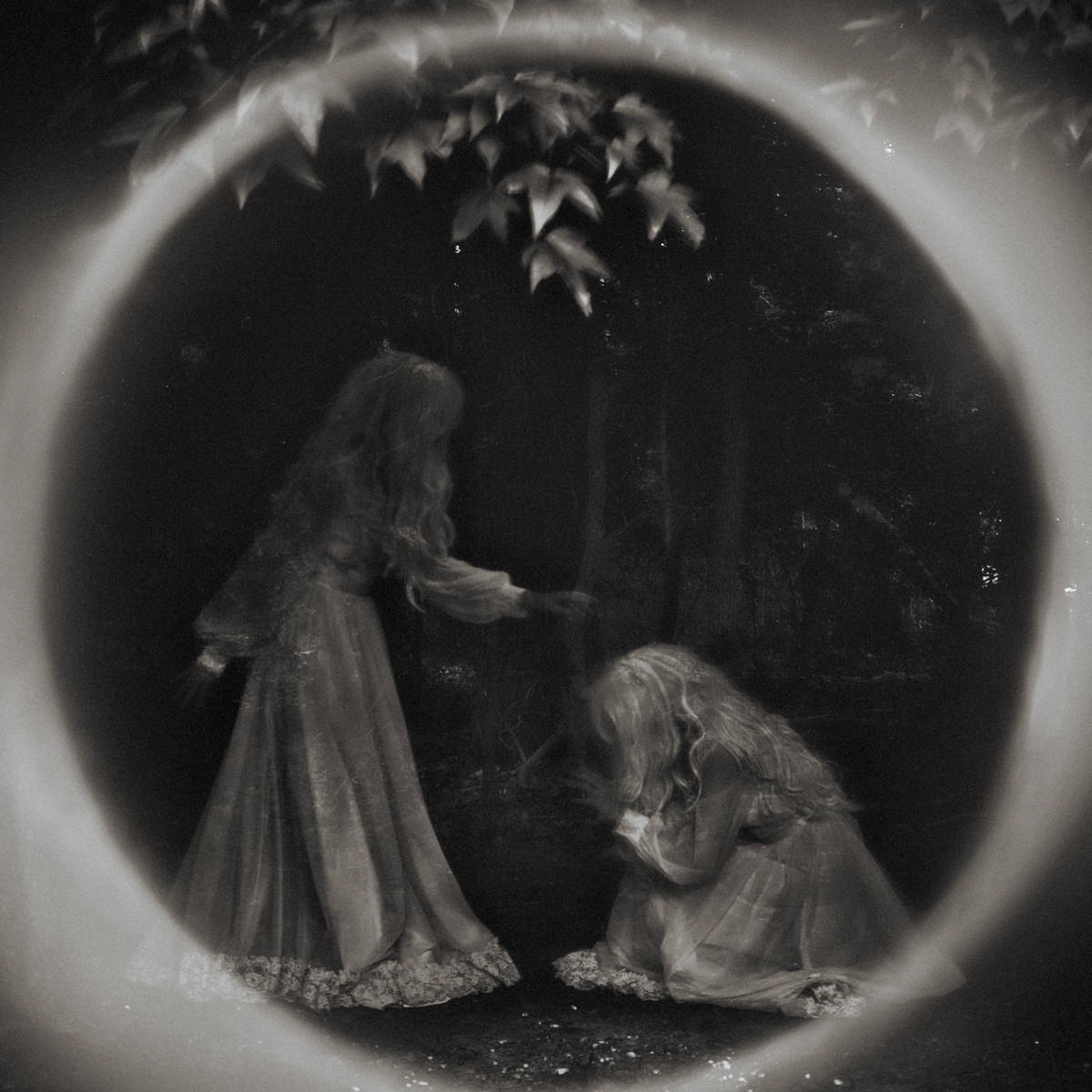 ---
"It's fascinating knowing that your thoughts, feelings, breath, heartbeat, movement, and life are all caught in an image over a period of time."
---
Whether you're shooting haunting self-portraits or a model, try having the subject's face obscured. There are several ways of achieving this. You can hide the face with hair, a mask, or a veil. You can slow your shutter speed down and have your subject move their head in a side-to-side motion while keeping the body as still as possible. This technique will keep the body in focus but blur out the head/face. Having the subject's face hidden will add mystery to your image and help to remove identifying markers.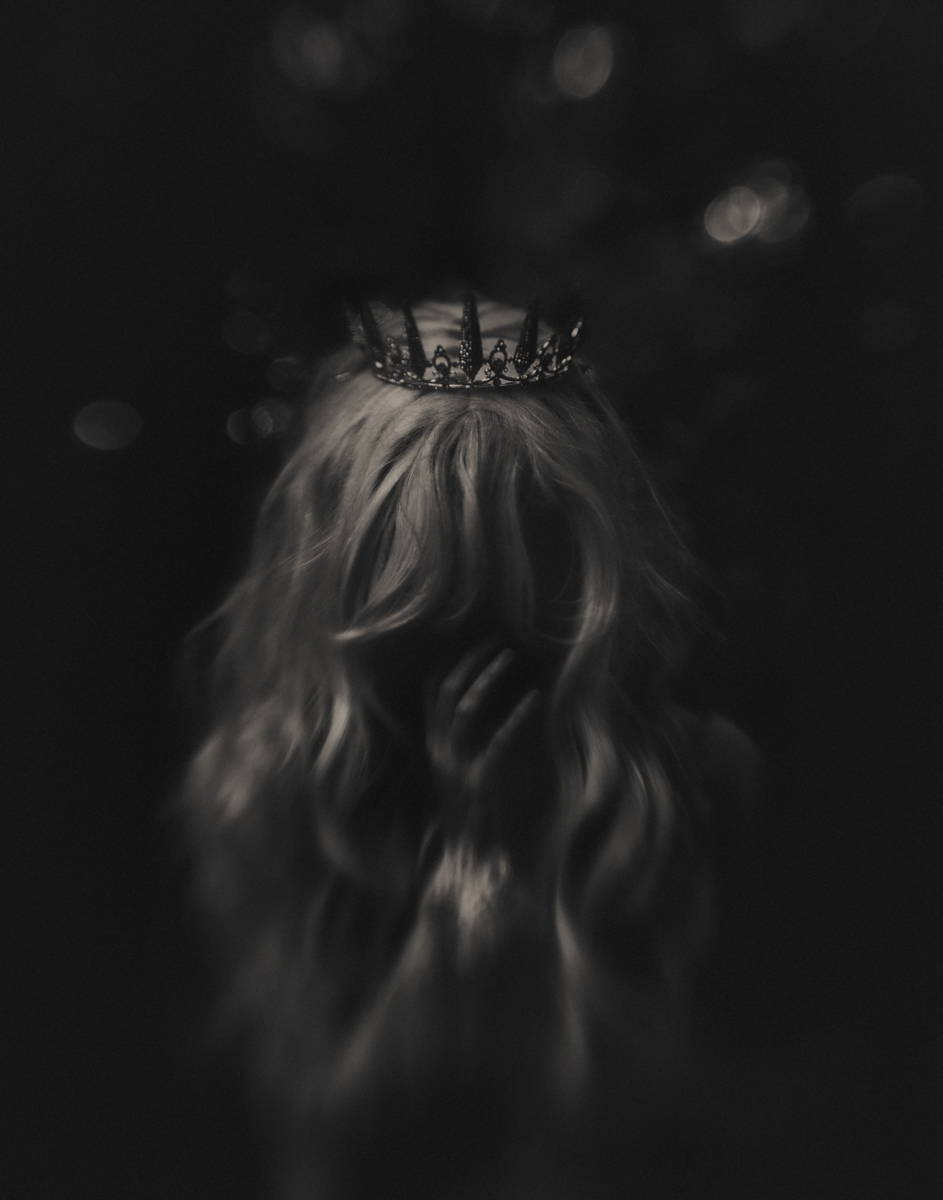 5. Black and White Processing
Spooky images and black and white processing go hand in hand. I begin all of my edits in Lightroom. I like to lower my exposure in post-processing. Don't be afraid to go dark! Editing your images in black and white helps to strip away time. If your subject is wearing white, try moving your blue luminance slider around in the HSL/Color panel and see how it affects the clothing. Often, I achieve a ghostly glow to white dresses this way.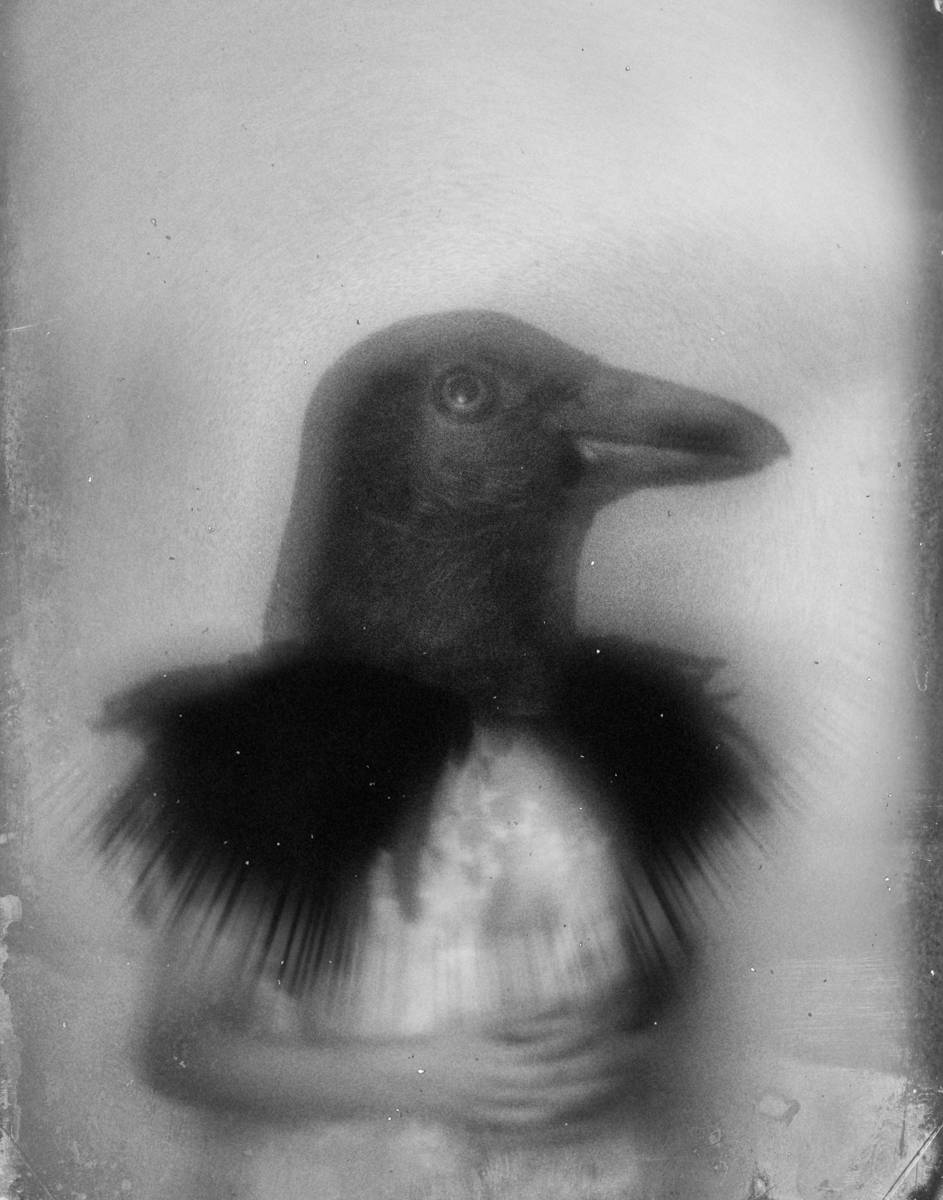 I incorporate all of these techniques into my self-portrait photography year-round in addition to using my Lensbaby lenses when it comes to spooky and ghostly images- the more blur, the better! I want my photographs to feel like memories from another time and place or torn pages from a beloved book of folklore and fairytales. I want the viewer to feel haunted by my work. Two of my go-to Lensbaby lenses for this are theVelvet 56 and theComposer Pro II with theSweet 50 Optic. TheVelvet 56 adds a glow and overall smoothness when I shoot using it at a 2.8 aperture. TheSweet 50 Optic helps me isolate and draw attention to a specific area in the frame while creatively blurring out the rest of the image.Lensbaby lenses are the perfect tools to help photographers achieve the haunting look in their work.
If you'd like to save 10% on your nextLensbaby purchase, use the codewsharon at checkout. If you feel inspired to try out anything from this post, tag me on Instagram @sharoncovertphotography. I'd love to see and show my support!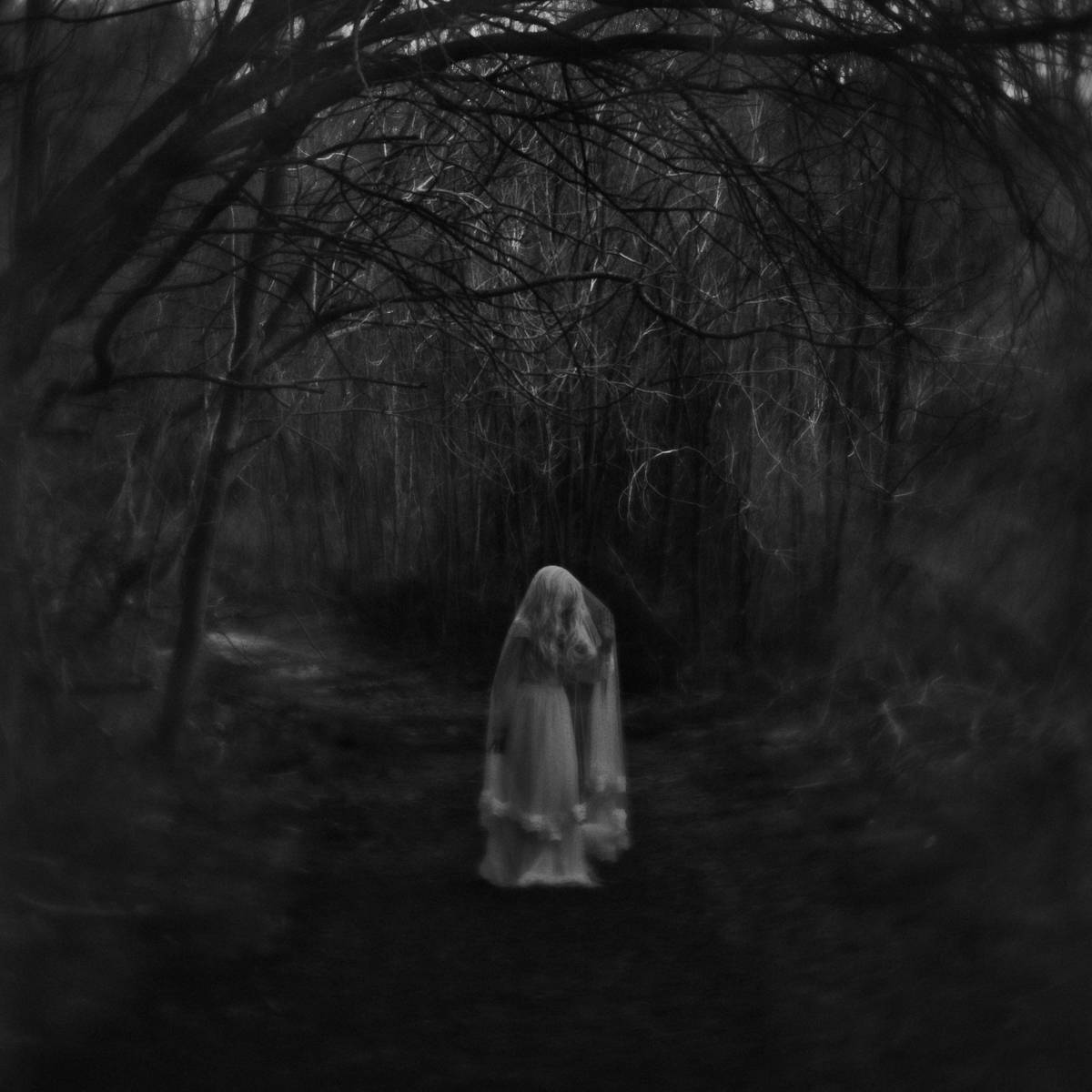 ---
Want your shots featured by Lensbaby?⁠
Be bold and shoot extraordinary! Make sure to tag your photos on IG with #Lensbaby, #ShootExtraordinary, and let us know what gear you're using. 📸 ⁠
---
Sharon Covert resides in Tinton Falls, New Jersey, along the Jersey Shore. With a strong focus on conceptual self-portraiture, Sharon teaches multiple online classes, including her 4-week course, Expressive Self Portraiture. She believes self-portraiture helps artists process their emotions and life experiences through art and creativity while giving them a healing outlet through self-expression. Sharon's work has been published and featured in numerous magazines and juried art exhibitions worldwide. She is proud to be both a Lensbaby Ambassador and Click Pro Ambassador.
Instagram
Website
Library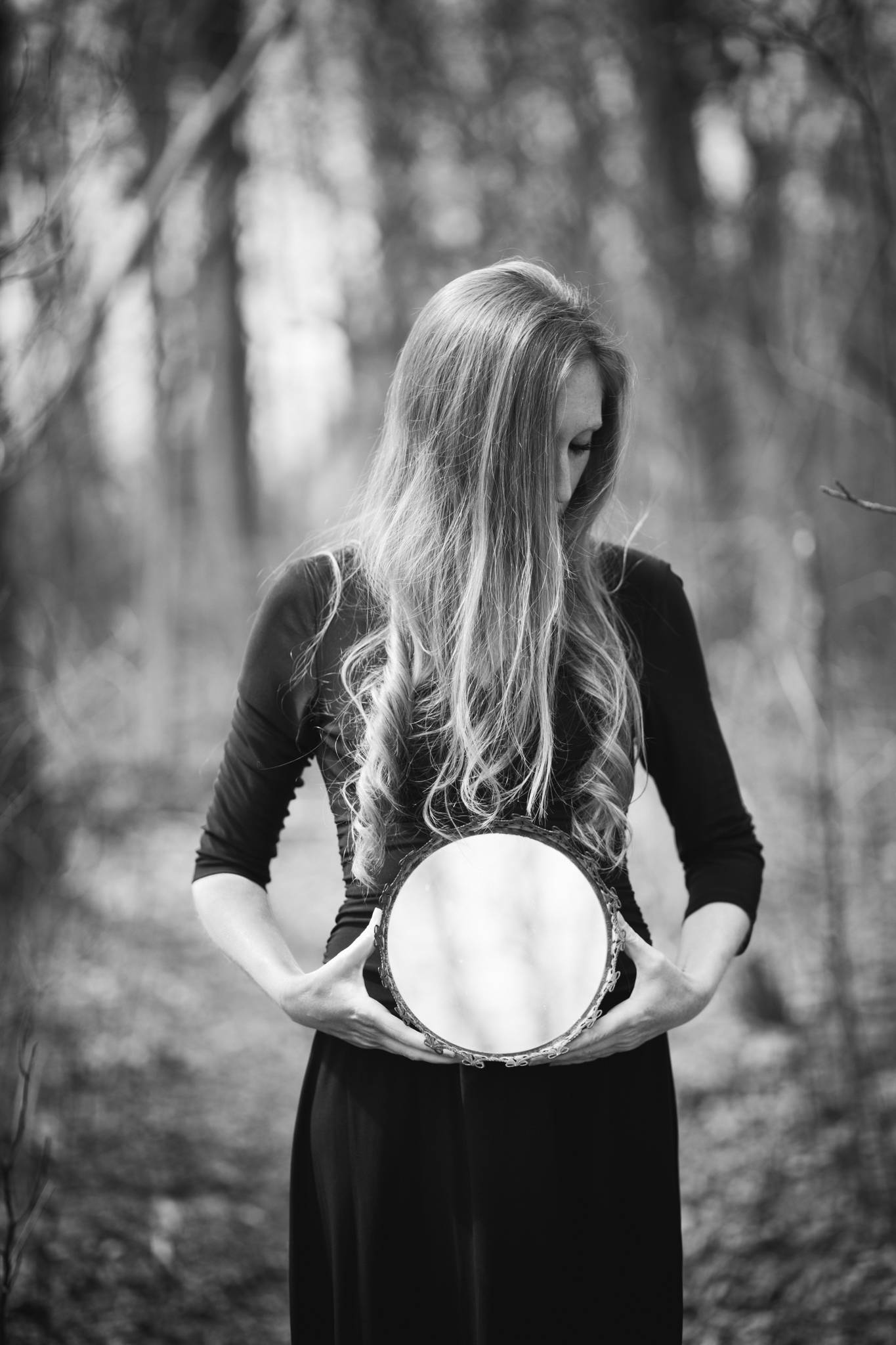 Follow us for your daily dose of art!