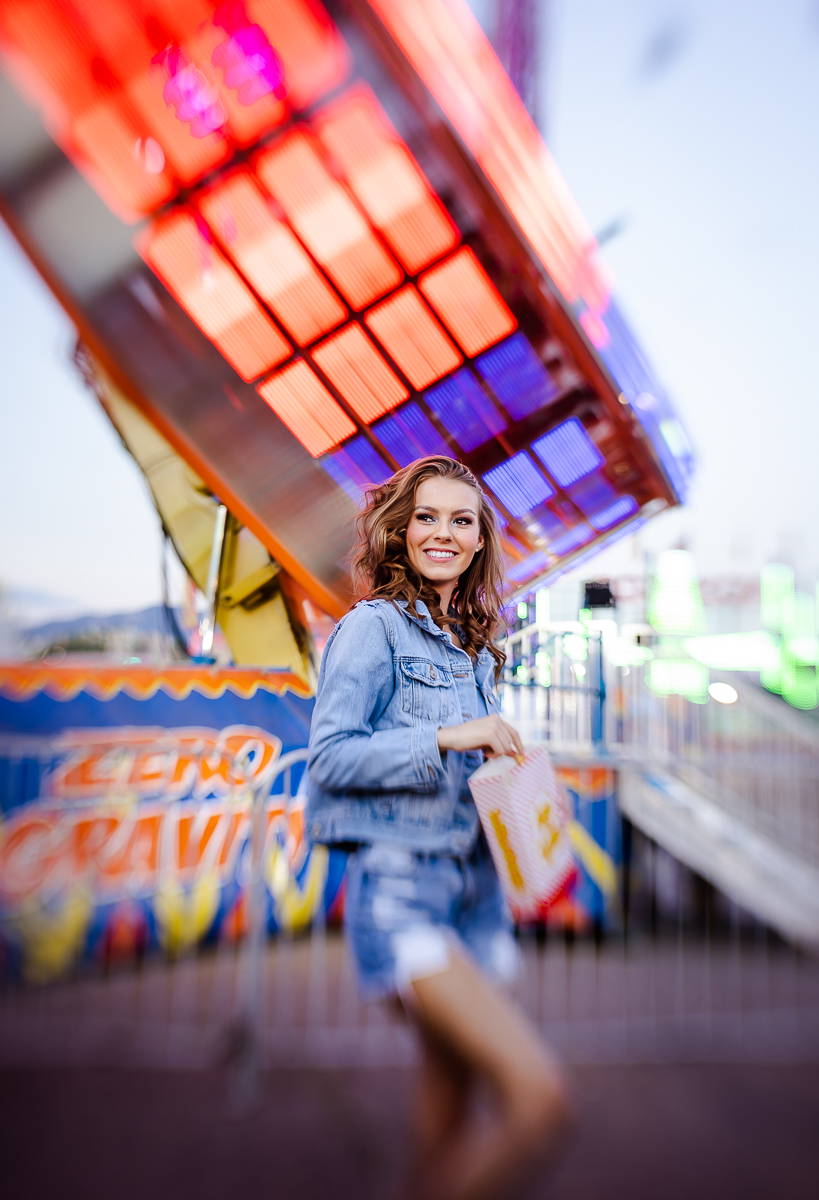 ---
Late summer seems to be State Fair season in so many places. Because of that, this time of year presents a unique opportunity to do something different and think outside of the box regarding creative or environmental portraiture. So, this month I had planned to take one of my amazing clients to our local fair and take her photos with one of my favorite LensBaby lenses, the Sol 45. As a full-time professional photographer, I have noticed that I occasionally find myself in a creative rut. Taking on creative projects can be one of the best ways to keep my creativity sparked. What I was hoping to achieve with all the colors and bright lights at the fair was exactly what I got. So, I thought I'd share my experience and some tips with you all.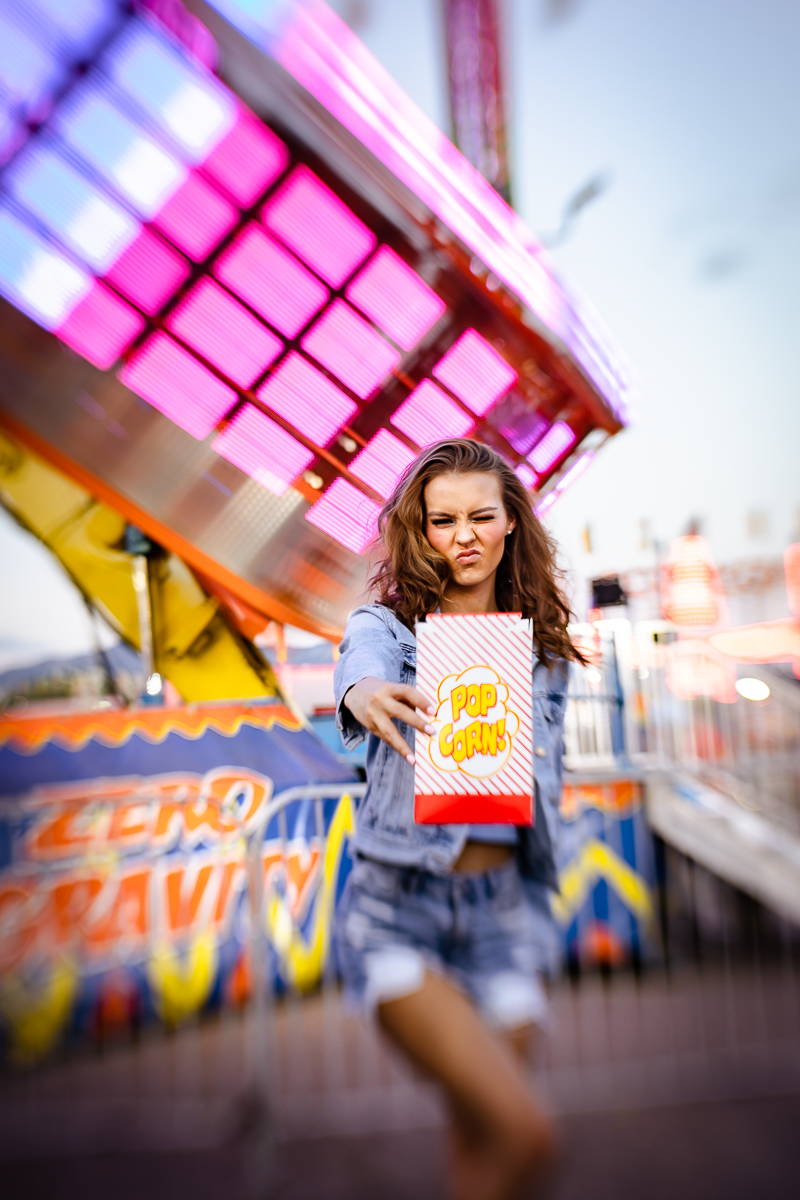 Some of these tips could apply to any environmental portrait session, such as color coordinating what your subject is wearing with the scenery, as well as incorporating fun props into the session that aid in imagery and help tell the story (for example, the box of popcorn that the subject is holding in many of the photos). A Lensbaby lens is a great choice for this type of session because of the built-in effects these lenses have, especially the Sol 45. My goal was to have my subject as the main slice of focus while distorting all the motion, color, and lights that surrounded her. The fair is full of all these things, which will undoubtedly create fun imagery.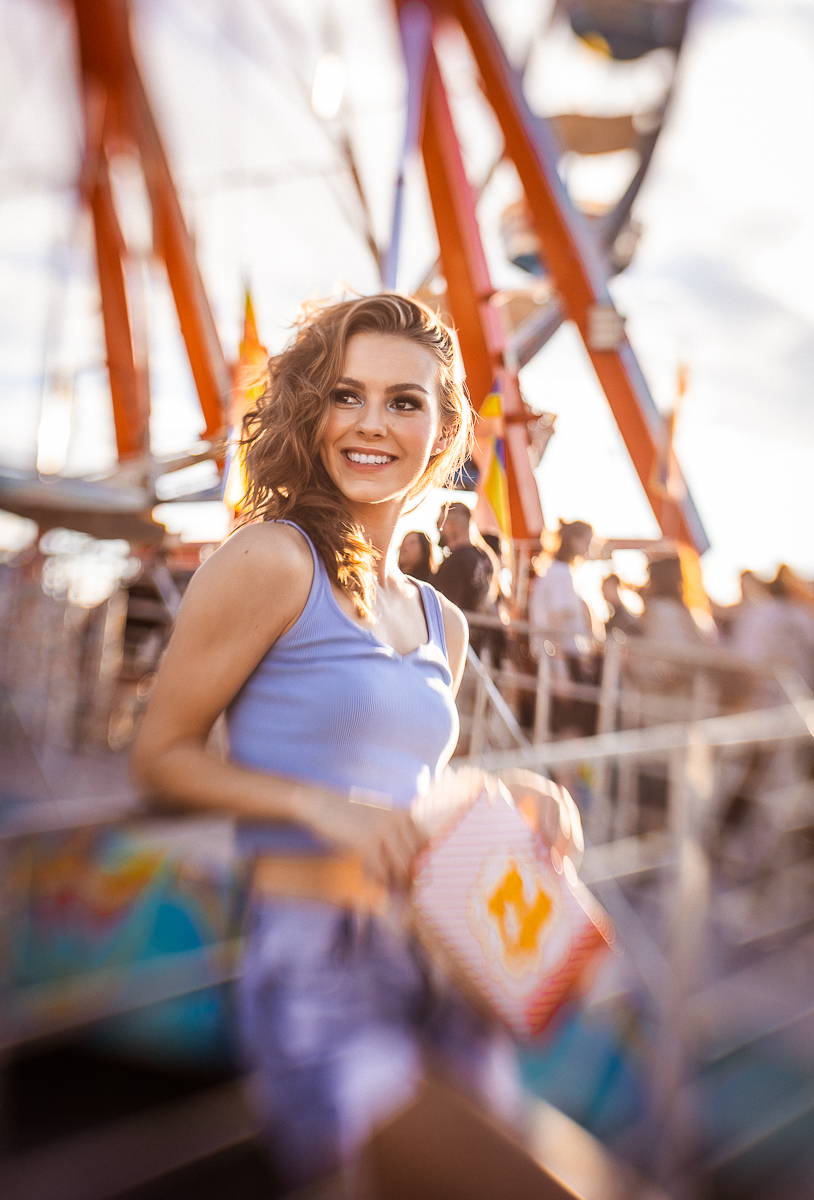 To start, a tripod is one of the most important things you'd want to have with you. Any sturdy tripod would work here, and the main reason I suggest this is because these lenses are manual focus. With so much movement in the background at a scene such as the fair, it can be important for some images to be able to stabilize your camera and find your focus before attempting to take the shot. The Sol 45 is a fixed 3.5 aperture, so my attempt on a slightly longer exposure to capture the motion blur seems challenging but attainable with a tripod. Once on the tripod, you can either find your focus by simply looking through the viewfinder or use focus peaking if your specific camera body has this feature. I photograph the Canon R6, and the Canon mirrorless family bodies all have this capability. It essentially shows you a false-color overlay on the sharpest areas. I do not always rely on this method, though, and I find that taking your time to find focus (your subject's eyes, for example) is just as accurate.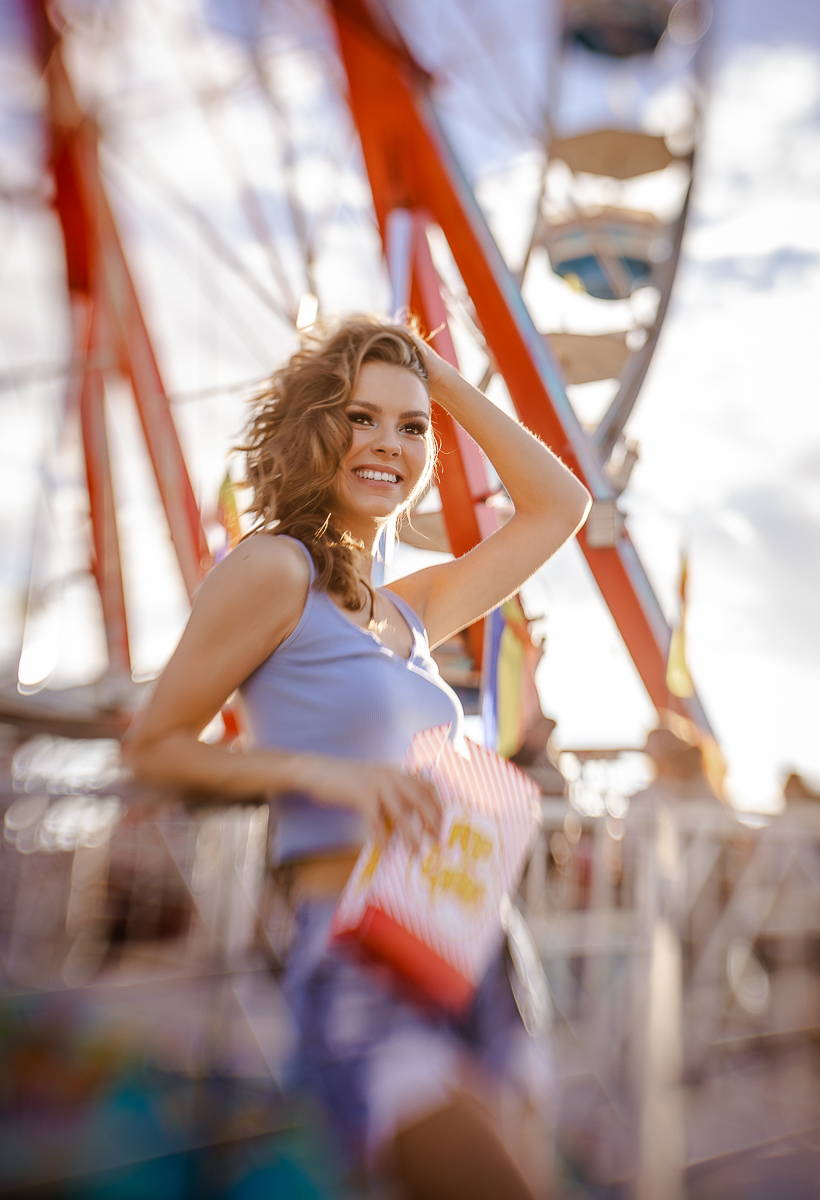 ---
"My goal was to have my subject as the main slice of focus while distorting all the motion, color, and lights that surrounded her. The fair is full of all these things, which will undoubtedly create fun imagery."
---
Another wonderful method is to find your focus and take a burst of images while slightly tweaking the focus, and you will almost always achieve sharp facial/eye focus. (I find the tripod is only essential when wanting to attempt longer exposures. Hand holding is almost always my main method otherwise). The Sol 45 is a tilt-shift lens, meaning it can tilt + or - 8.5 degrees, pulling more distortion away from the area you are tilting from. On the opposite side of the tilt, you will find your slice of focus. The images with the motion blurred ride in the background were taken at 1/15th of a second, iso 100, and the fixed 3.5 aperture (and on a tripod). The next series of images with the Ferris wheel in the background was taken at a higher shutter speed to sharpen the movement of the Ferris wheel at 1/320th of a second. These images were taken hand-held.
One of my absolute favorite features of the Sol 45 is the built-in bokeh blades. These two little movable blades sit on a swivel just above the glass of the lens, and the additional effects you can achieve by moving one, or both to cover the front of the glass, will completely change your image. The final series of images were taken, shooting directly into the sun with one bokeh blade at the edge of the lens, creating a burst of color that bounced off our colorful surroundings. These blades add textures, enhance sun flares, and can create a bokeh within your image that cannot be replicated by any other method.

I hope this inspires you to get out there and do some fun and creative environmental portraiture with the Sol 45 or any of your favorite Lensbaby lenses!!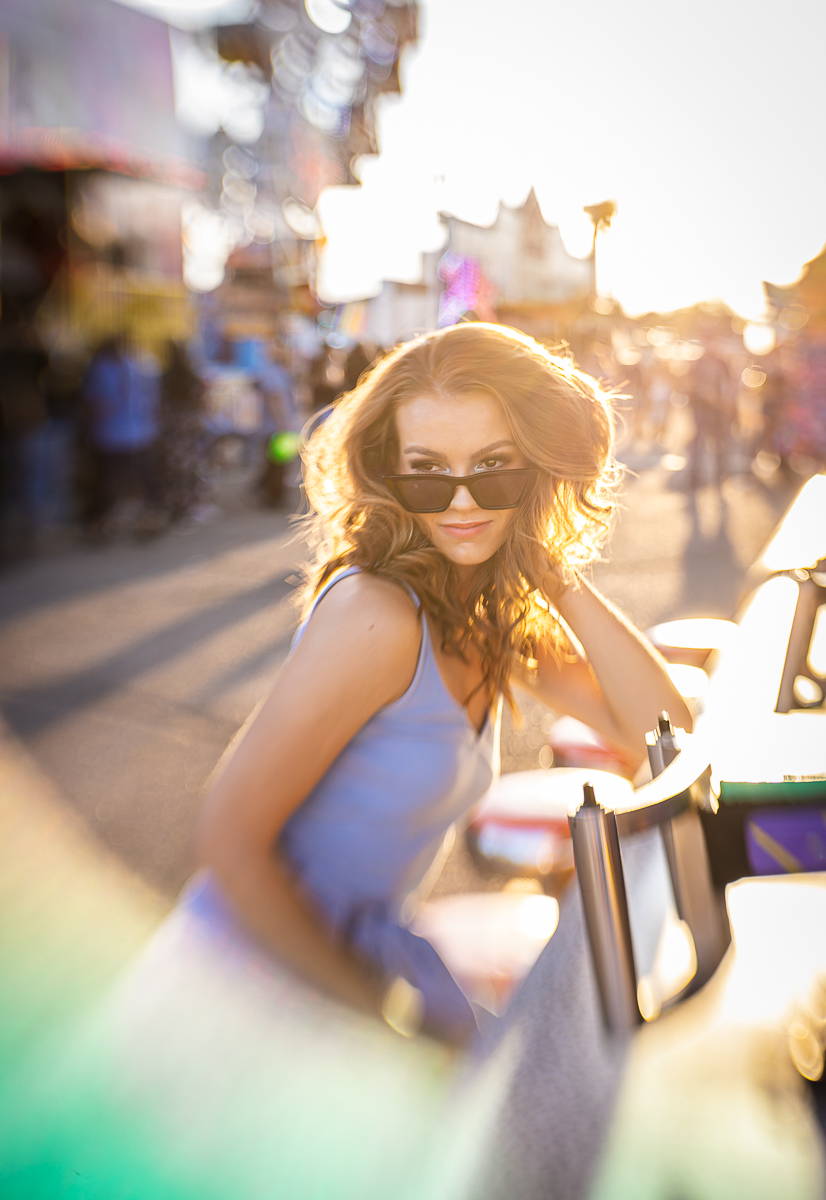 ---
Want your shots featured by Lensbaby?⁠
Be bold and shoot extraordinary! Make sure to tag your photos on IG with #Lensbaby, #ShootExtraordinary, and let us know what gear you're using. 📸 ⁠
---
Julie Hamlin is a New Mexico-based photographer and owner of Sacred Sage Photography. In addition to being a Lensbaby Ambassador, she is a ClickPro Elite, an ambassador to the National Association of Professional Child Photographers (napcp), a Top100 napcp Photographer with a Master Certification in child & baby photography. Julie considers herself to be an emotive storyteller, focusing on portraiture and all aspects of family photography.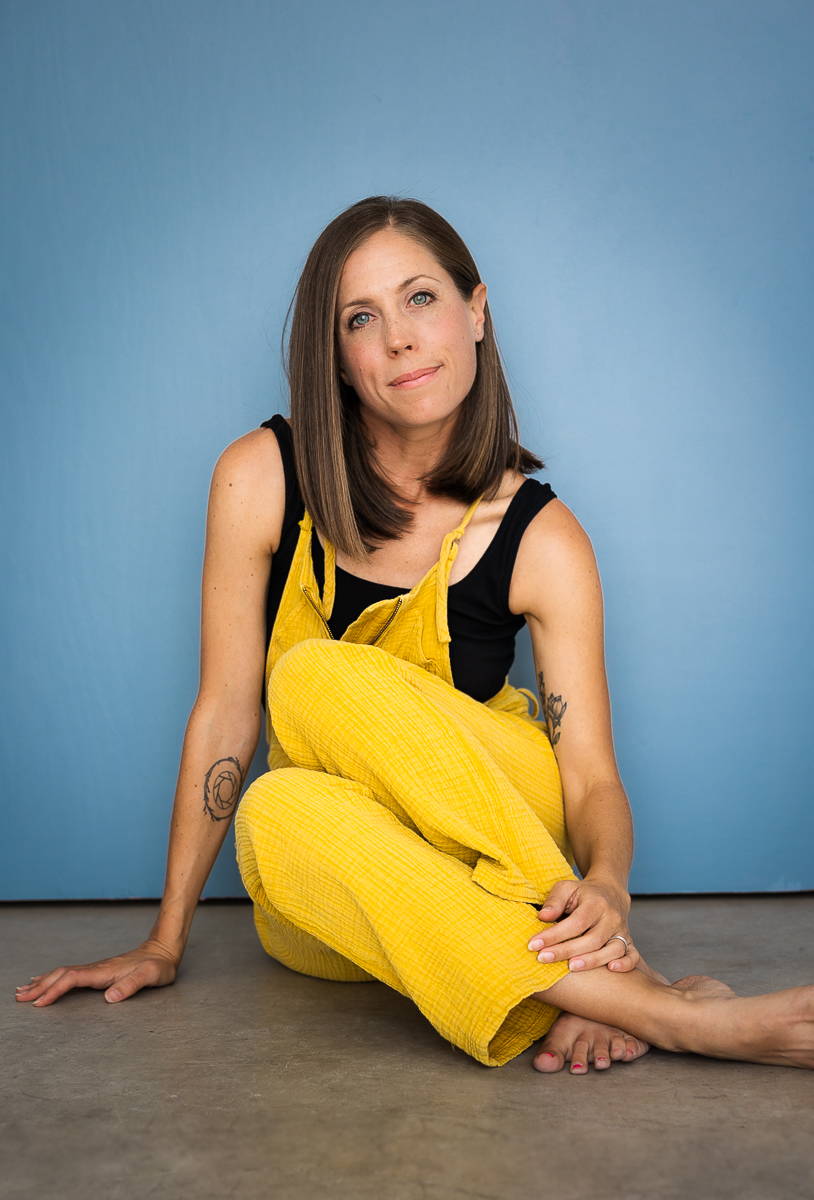 Follow us for your daily dose of art!