---
I'm a storyteller who uses toy photography to tell small, intimate, and often magical stories. I've learned over time that when I change my lens, I change the story I'm trying to tell. Choosing a specific camera optic is one of the decisions I make that takes my stories in a new direction. I want the camera's effects to add a certain magical element that I can't get in post-production.
I was instantly intrigued when I was first introduced to the Lensbaby Optic Swap System. Why? Because I love the idea of one mount with ever-expanding lens options. I will freely admit I have a hard time committing too much of anything, much less to a lens. With each lens change, I create a different effect in-camera. And each of those different effects will change the story I want to tell. How effectively I tell my 'stories' is how successfully I connect with my audience.
Rather than me rambling on about how this works, let me show you two examples of how different and subtle those changes can be.
In this first example, I set up Kermit and his nephew Robin in front of a sprig of baby's breath. I wanted to create an intimate family portrait of the two frogs. Unless I have a specific image in mind, I usually try at least two different lenses on any of my set-ups. In this case, I tried the Soft Focus II, Twist 60, and Edge 50. (For all my toy photos, I generally have my aperture set at wide open, and I add a +8 Macro Convertor to any lens that cannot close focus.)
As you can see, the three lenses capture the scene in slightly different ways. As always, there is a magical quality to the Soft Focus II. Because of the effects disks, I can't get enough of the flower bokeh that turns up in the shadows. The Twist 60 curved bokeh frames the subjects nicely and creates an interesting color shift. While the Edge 50 gives a gentle twist effect around the edges and maintains good focus across the eyes of both figures even though they are not on the same focal plane.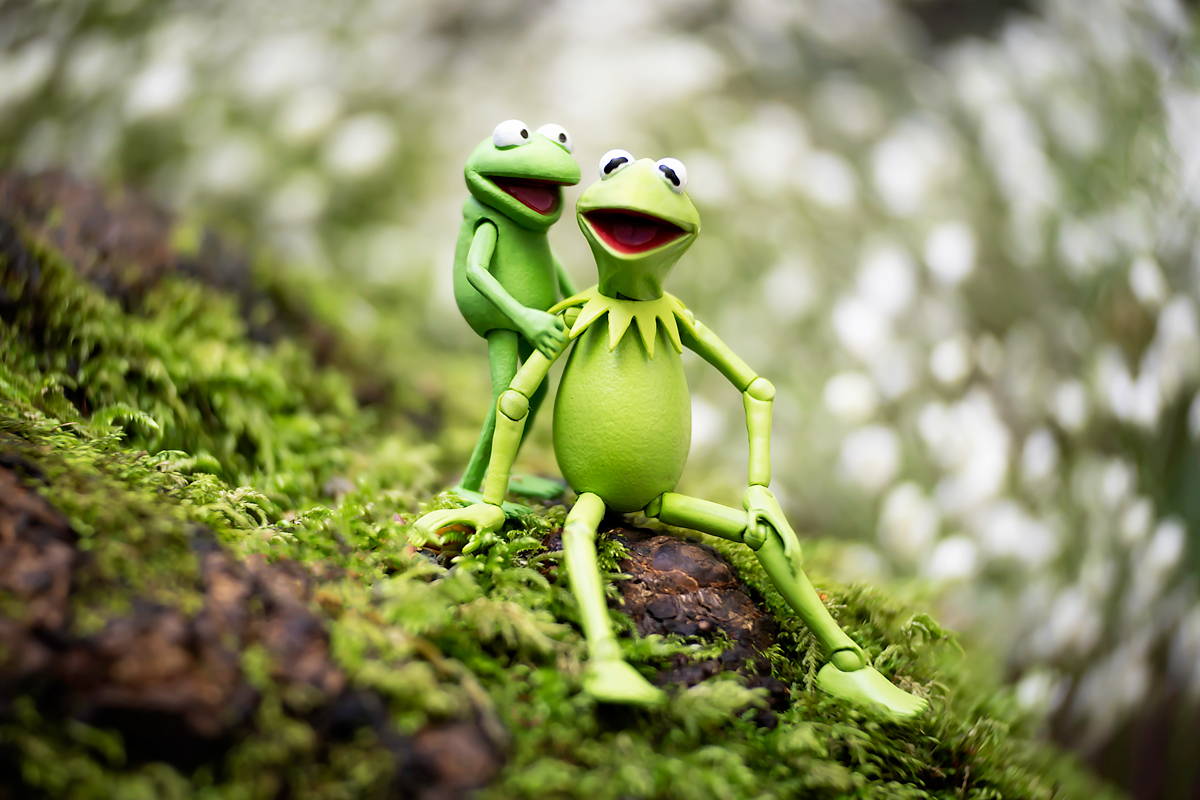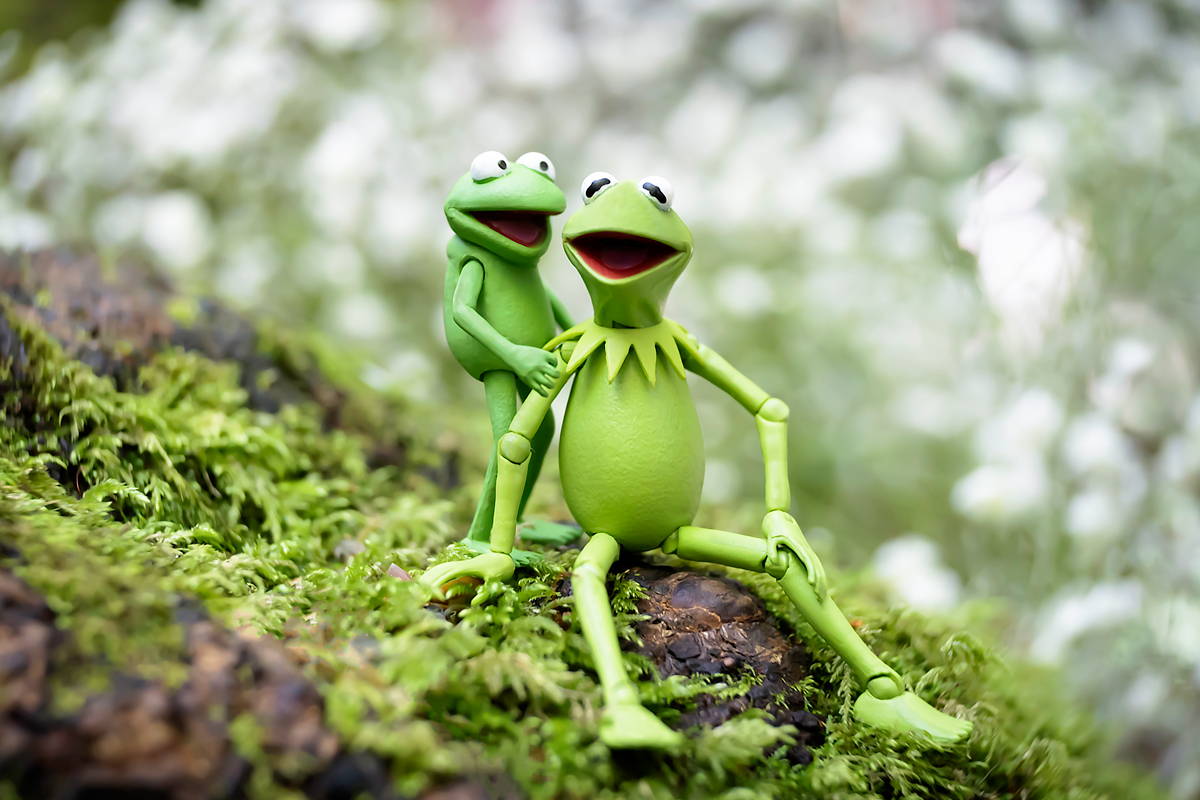 Since this image feels like a formal portrait, I will probably choose the Twist 60 version. I really like how the bokeh frames the subject and keeps the viewers' attention focused on the intimate moment. In this situation, Twist 60 tells the story that I want to share with my audience.
Part of the joys of toy photography is letting your imagination run wild, like in the scene below. I want to transport my viewers to another world. And in this whimsical moment, Ladybug offers afternoon tea to his friend, the Bee. I wasn't sure which lens would best convey the idea of an alternate and magical universe, so I tried several. To ensure I covered all my bases, I experimented with the Soft Focus II, the Sweet 35, and the Edge 50. As always, each lens gives the story its own flavor.
I'm not sure which version I will ultimately choose. Each image has an interesting take on the scene and tells a slightly different story.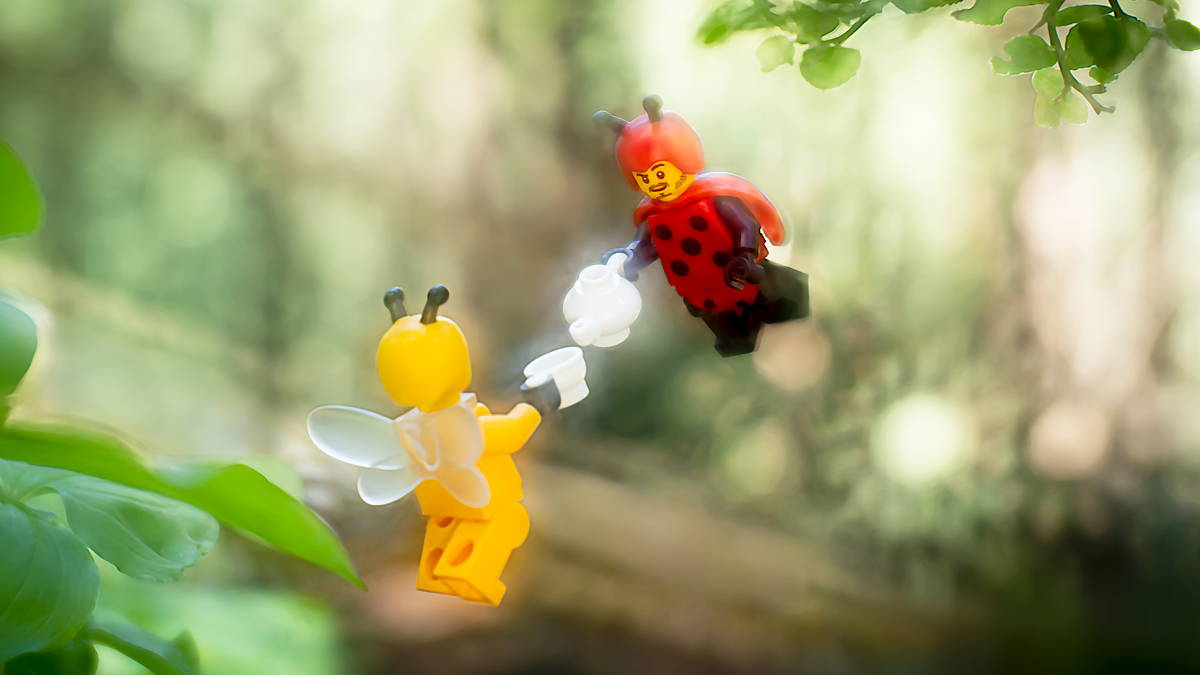 ---
"I'm not sure which version I will ultimately choose. Each image has an interesting take on the scene and tells a slightly different story."
---
In this photo, I used the Soft Focus II. I used the medium hole effects ring to create the flower-like bokeh in the background. I really do love this effect, but I'm not sure if it overpowers my two little subjects. Of course, if I had played around with the f-stop more, I probably could have dialed back the effect to something more subtle. As is often the case, my brain flies out of my head when I get on location.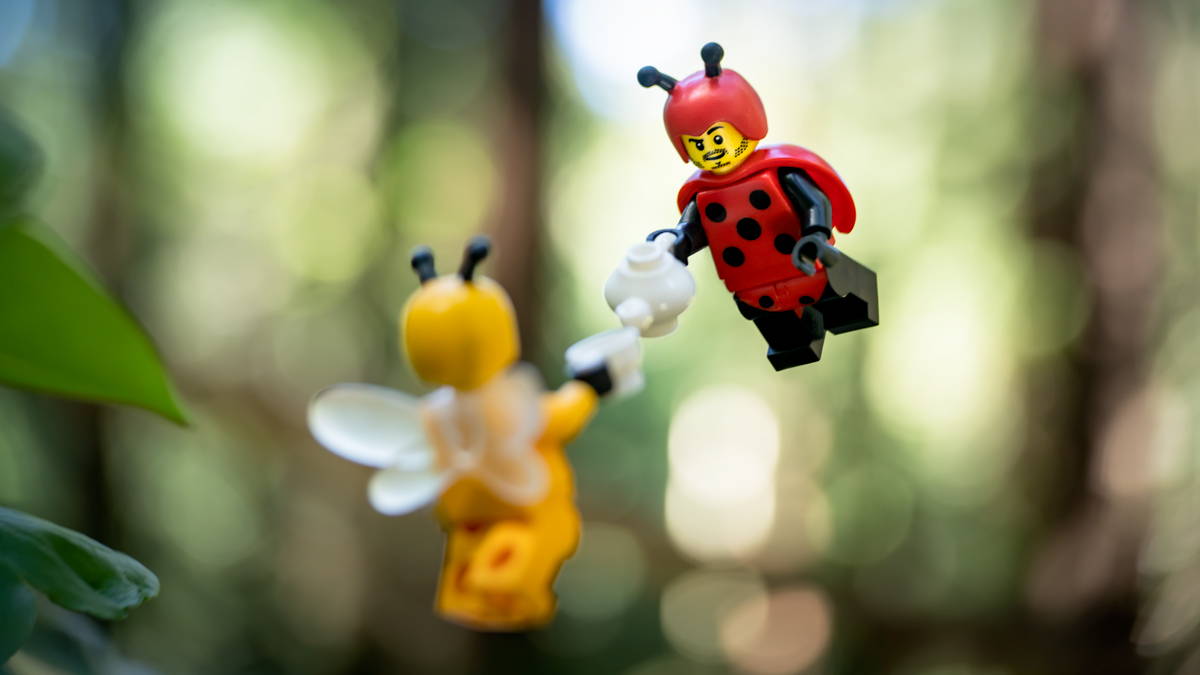 Because I wasn't seeing exactly what I wanted, I swapped out the SFII for the Sweet 35 with a +8 macro convertor. This is my go-to optic. I never fail to get the image that I'm looking for…except in this case. While I like that the Ladybug is in focus, I really want this image to be about both figures, not the one. With only the Ladybug in focus, all the attention is on him, which is not the story I want to tell.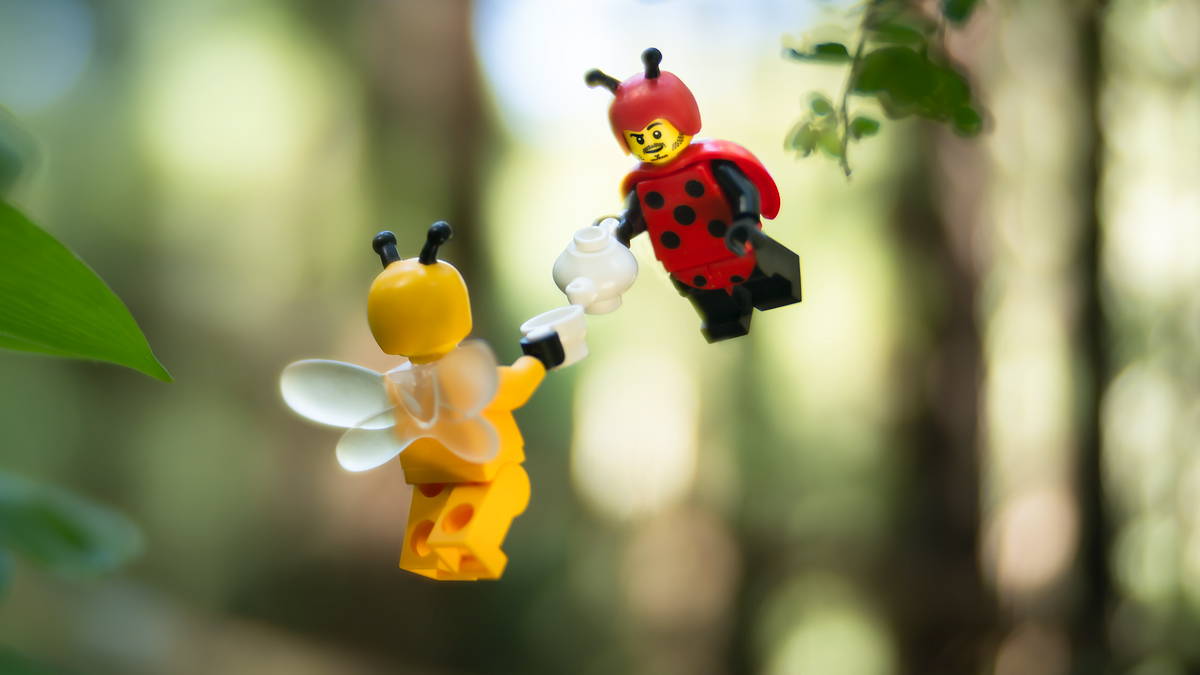 Of course, I had to try out the Edge 50 next. This optic is rapidly becoming a favorite of mine. I really enjoy the bokeh the lens creates, as well as its ability to tilt the focus plane. This comes in handy when attempting to get two figures into focus.
Right now, this version is my favorite. I like how both figures are in focus, the background is pleasantly blurred, and the foreground and background foliage frame the scene. Both the Ladybug and Bee are in focus thanks to the Edge 50 optics which is an important element for me.
Playing with and photographing toys gives me a wide range of storytelling possibilities. I can be as realistic or as fantastical as I want to be. The Optic Swap System allows me to push the boundaries of the creative storytelling process.
When I choose a lens, I want to know if it will:
Enhance the story I want to tell.

Direct the viewers' gaze to the important elements.

Add or distract from the story I'm trying to tell.

Capture in-camera effects I'm not interested in adding in post-processing.
As an artist, I make a lot of decisions in my creative process. Everything from the toys I choose as my motive to the lenses I capture them with. Each of these decisions, and the many in between, affect the story I want to share. Because storytelling is at the heart of what I do, I love that when I change my lens, I change the story. Hopefully, becoming an even better storyteller.
---
Want your shots featured by Lensbaby?⁠
Be bold and shoot extraordinary! Make sure to tag your photos on IG with #Lensbaby, #ShootExtraordinary, and let us know what gear you're using. 📸 ⁠
---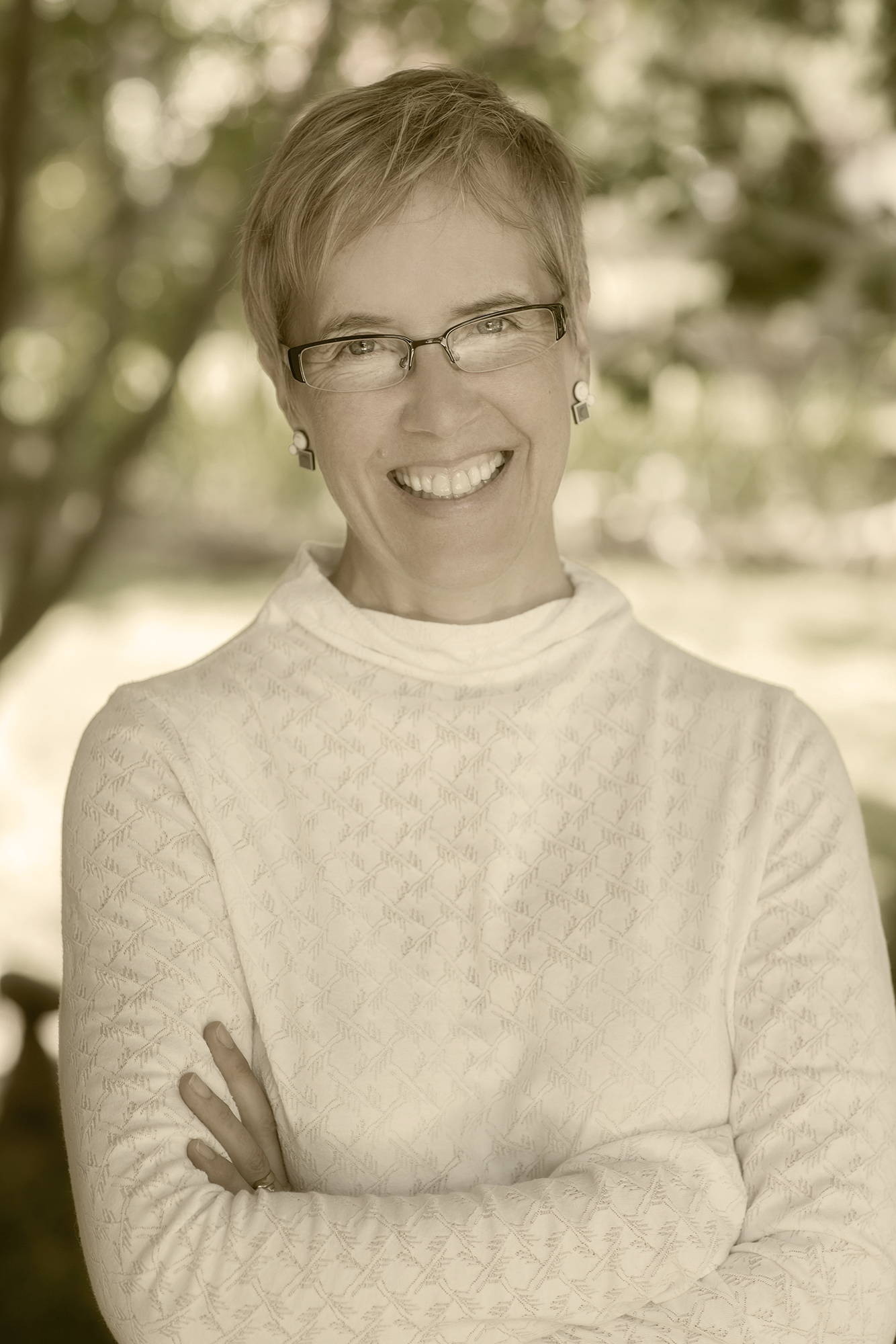 Follow us for your daily dose of art!