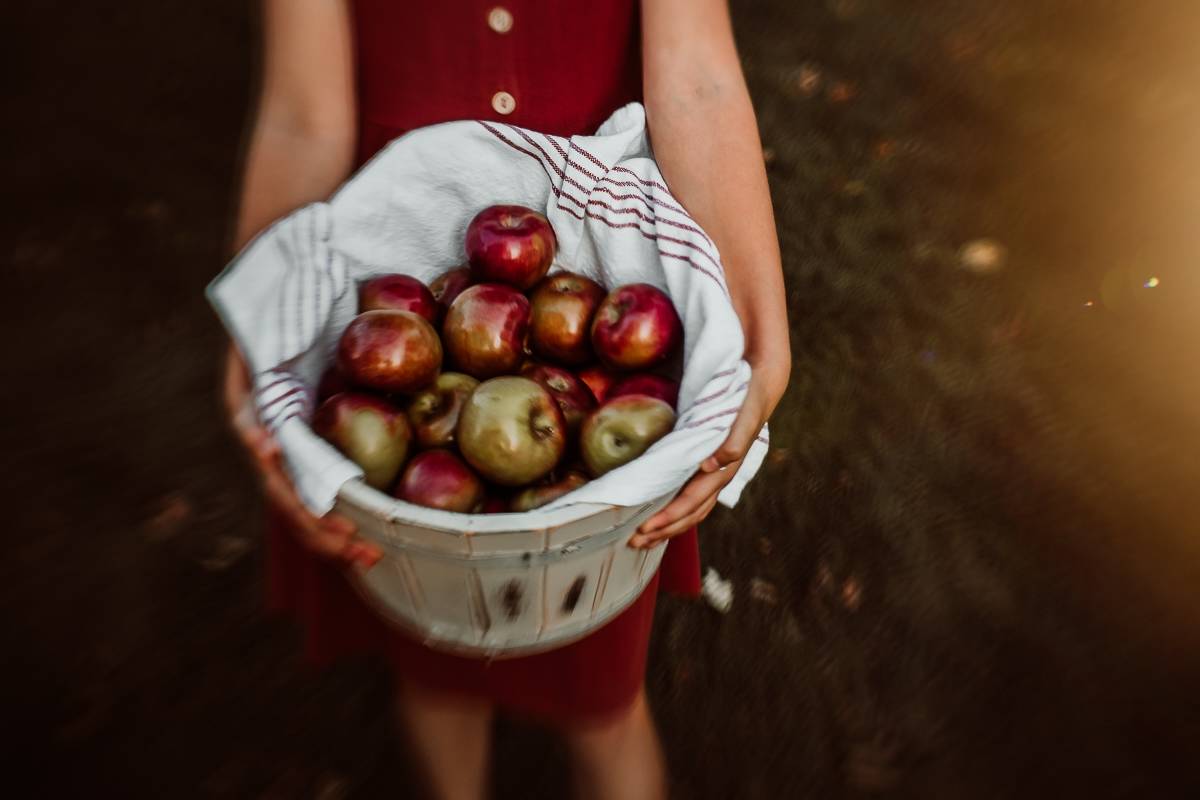 Lensbaby Sol 45 | ISO | 800 | 1/320 | Canon R6
"As long as Autumn lasts, I shall not have hands, canvas, and colors enough to paint the beautiful things I see." - Vincent Van Gogh.
---
Autumn is the time of year that makes photographers swoon. Rich colors and unique textures are everywhere. The green grasses of summer have faded to golden wheat, and the leaves have taken on a whole new color palette. If you're not lucky enough to live in a place where you can experience fall in all its glory, don't fret. All you need is a little creativity, and you can still get great fall photos that capture the essence of the season.
I'm a Midwesterner. We have all four seasons here (though Winter likes to stay waaaay longer than I'd like.) But, we are blessed with a gorgeous fall… it's a season that displays itself so lavishly. It's the stuff movies are made of. If you're looking for inspiration and ideas on how to take advantage of all that Fall has to offer, use these tips and tricks to help snap some amazing photos.
"One can speak poetry just by arranging colors well." - Van Gogh.

Color Theory . . . Fall is the perfect time of year to make use of color theory. Analogous, complementary, and monochromatic color schemes are abundant. If you're unsure what, color theory is, think back to your school days when you learned about the color wheel. This useful tool illustrates the basic idea of how different color combinations work with each other.
You can create vibrant, striking images by choosing complementary colors (two colors opposite each other (red/ green, yellow/ purple, blue/orange.) Think about how much a red leaf pops laying in the green grass!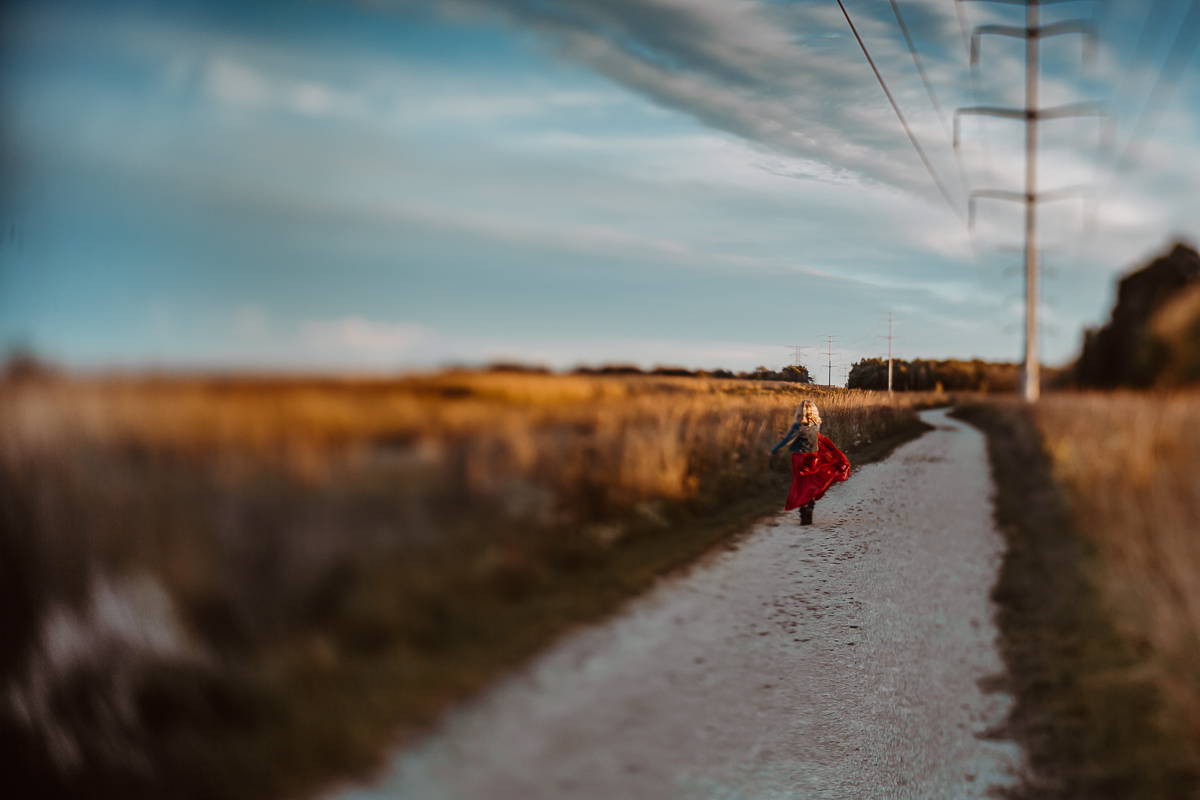 Lensbaby Edge 35 | ISO | 500 | 1/500 | Canon R6
Analogous colors are three colors next to each other on the color wheel: red, orange, and yellow. Analogous colors evoke a feeling of harmony- using these colors creates a sense of balance and tranquility. They are pleasing to the human eye and are found all over in nature. Think of the progression of color change you see on the leaves of a tree- they don't all immediately change from green to red. There is usually a gradual shift as they start to fade- this is nature's example of analogous colors!

A monochromatic color scheme is one color in various tints, tones, and shades. Despite how it may initially sound, this combination is eye-catching and can pack a serious punch! If you're drawn to a specific color combination, don't let what you find in nature limit you. Suppose there is a human component to what you're photographing. In that case, this is where you can intentionally include a specific item of clothing or accessory (like a child holding pot of red mums in a field of green grass) to help you achieve whatever aspect of color theory you like!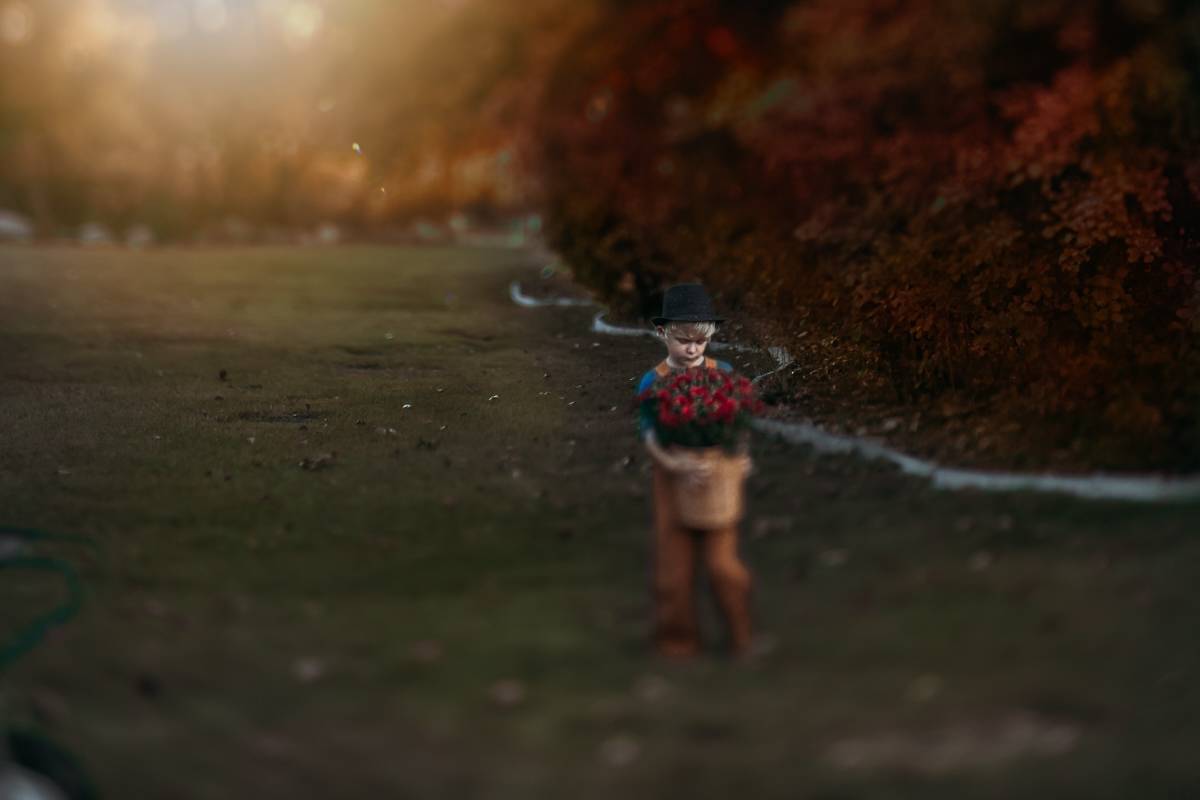 2. Creative POV/ Perspective

When you run out of ideas or are looking for new inspiration, change your perspective. Try shooting up. Find a group of colorful trees that is backlit. This technique will result in a glow that highlights the changing colors. Or, if you're shooting near the end of the season, you'll notice that most of the leaves have already fallen. Shift your focus to the ground, and you'll still be able to capture their rich colors and textures. Build a giant leaf pile. Have your subjects toss a handful of leaves into the air and capture them falling back down. You can change up your perspective, here again, laying on the ground and shooting up at the falling leaves or shooting straight on towards your subject as the leaves land on them. Switching your AF Drive to high-speed continuous will help in this scenario.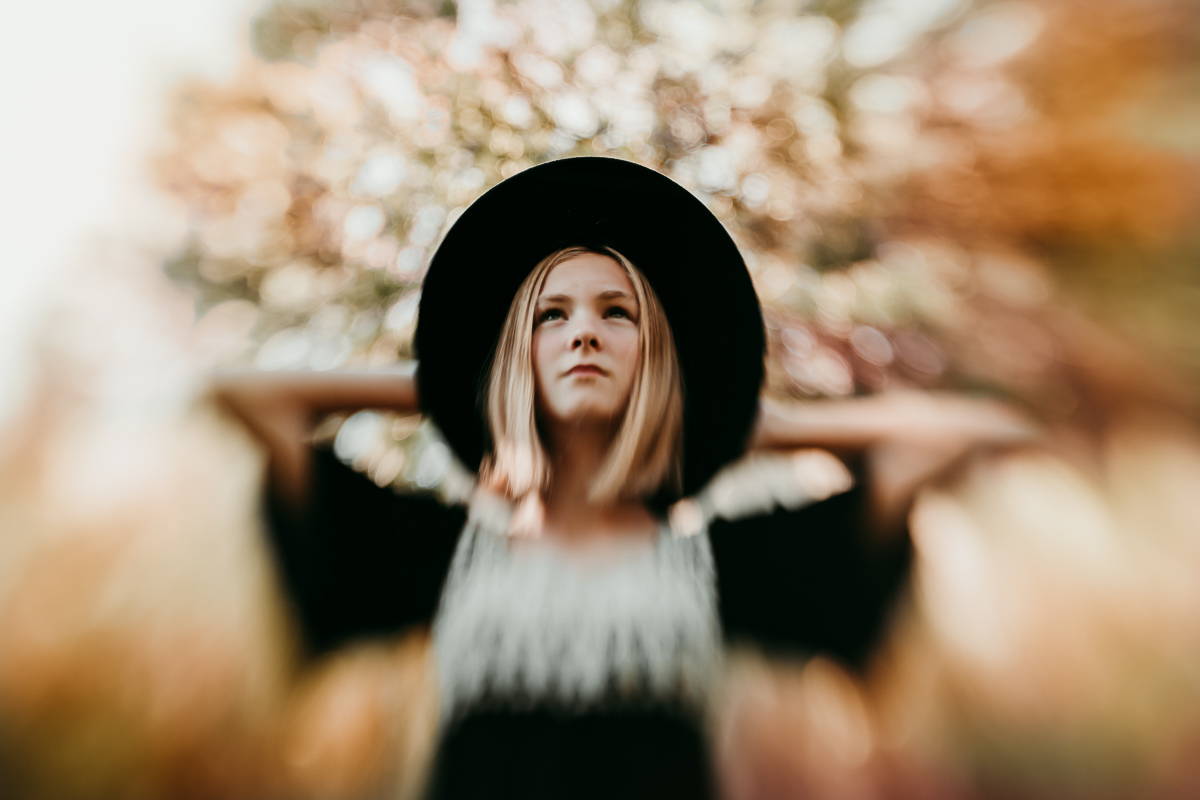 Lensbaby Sweet 50 in Composer Pro | ISO | 160 | 1/400 | Canon R6
3. "I'm ready for my close-up, Mr. Demille." Ok… excuse my cheesy segue into macro photography.
I don't personally own a macro lens. But I do have macro extension tubes. Lensbaby also sells a macro converter kit and a macro filter kit to use with their lenses as another option. Fall is an amazing time of year to capture nature's details. Think textures, lines, and colors. All of these details are amplified this time of year. The leaf vein in summer looks completely different when it transforms in the autumn months. It becomes more prominent and even takes on a different color. The blade becomes withered and crisp. Imagine all the beautiful lines of a pinecone up close, the different textures and shades of brown in an acorn…. these are the details that you'll want to capture up-close. You're not out of luck if you don't have a macro lens, extension tubes, or filters.
You can reverse free-lens for a macro effect. With very close subjects, detaching and reversing the lens so that the rear element is now facing the subject and the front element is pointing into the camera will project a large, magnified image of a small object on the film or sensor. Again, this technique takes practice, so you'll want to allow yourself extra time to feel comfortable taking photos this way. And above all else, you'll have to let go of your idea of perfection. The results from free-lensing are often unpredictable and difficult to control. The slightest tip of your lens in any direction, along with the amount and direction of light available, will greatly change the results. It's a lot of fun and really adds a magical touch to your subject.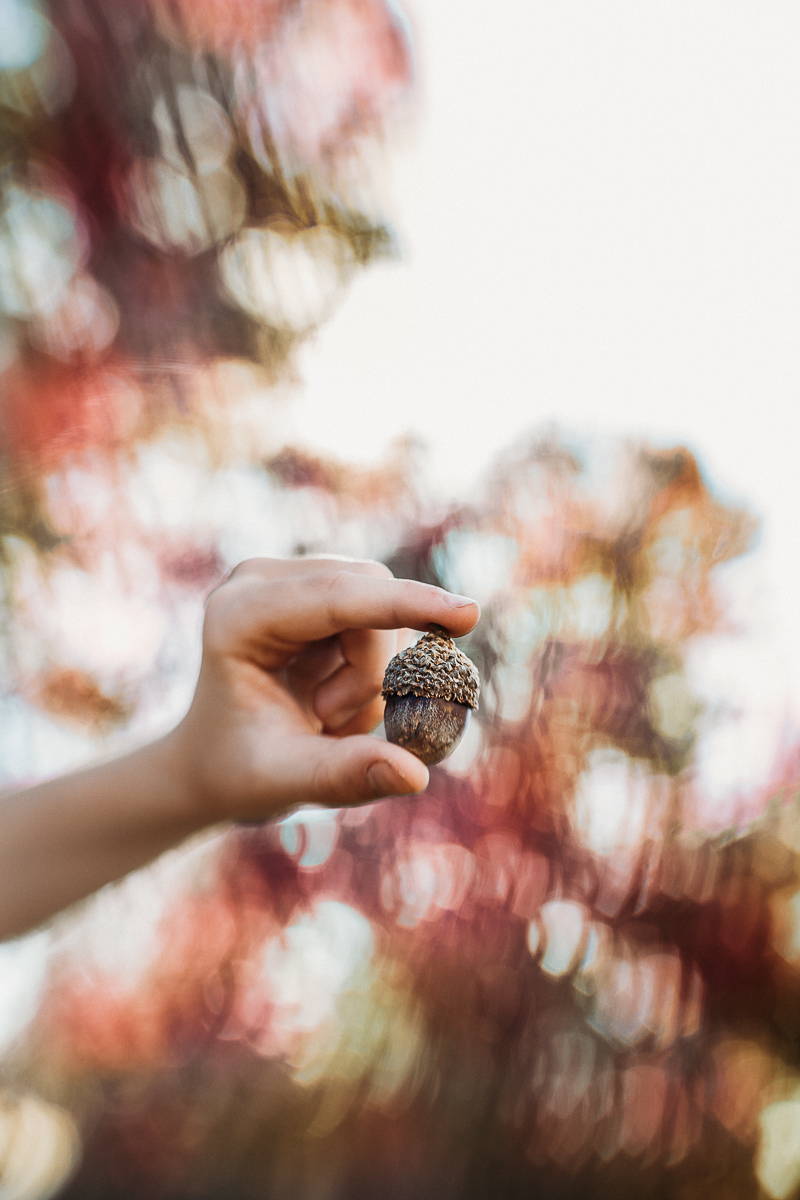 LensbabySol 45 | ISO | 320 | 1/320 | Canon R6
---
"The leaf vein in summer looks completely different when it transforms in the autumn months."
---
If macro photography isn't your thing, try capturing the unique details of this time of year- acorns, a pile of pinecones on the ground, apples and pumpkins, etc. Isolate your subject, so it is the main focus and draws the viewer's eye directly to it.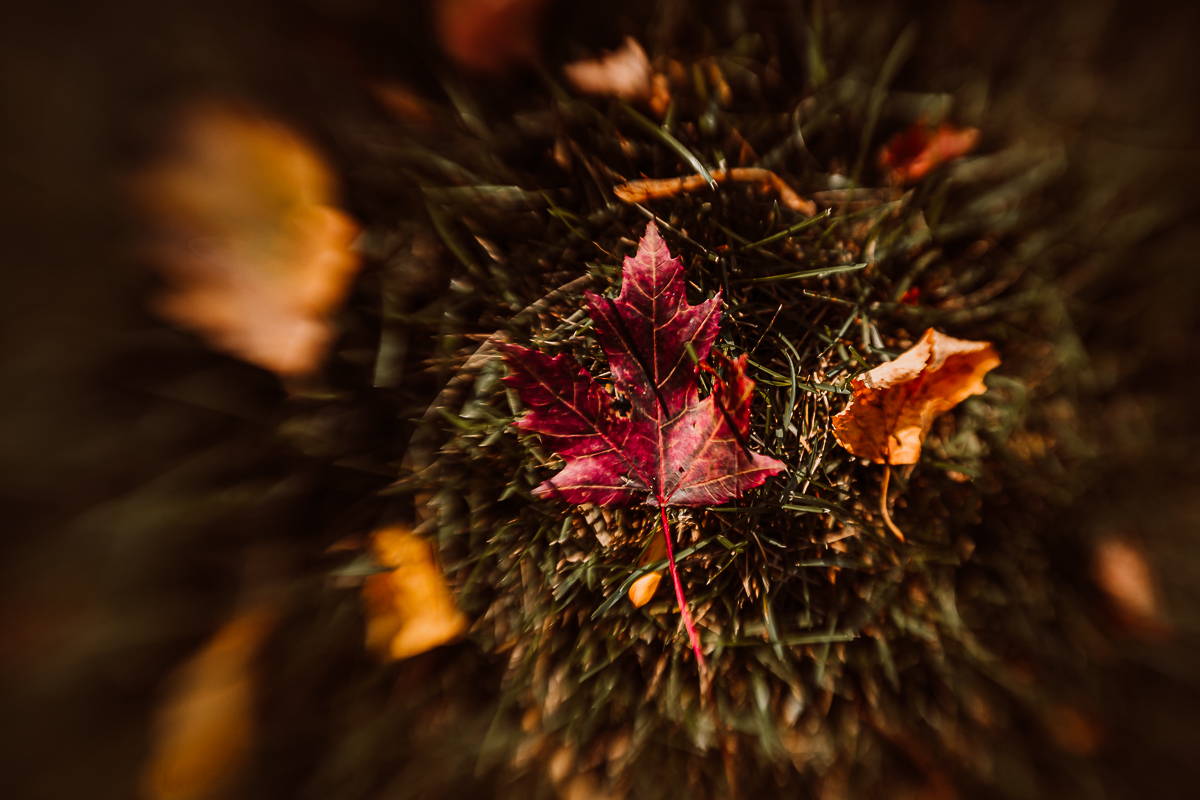 4. There's an App for That: When trying to capture the rich colors of Fall, sunrise and golden hour are your friends.
The color of light during these times makes red, orange, and yellow more bold and rich. Overcast days are also great times to capture Fall in its essence. The clouds act as a giant softbox, and you can pretty much shoot all day long. Autumn colors contrast beautifully against a moody, gray sky. Bright, midday sun washes the color out, so if you have no choice but to shoot at this time, use trees as a filter to block some of that harsh light. If you need help determining when sunrise and sunset are where you'll be shooting, try using a sunrise/ sunset app to track the light. Some websites allow you to look at a calendar, pick a specific date and zip code, and it will list the times of sunrise and sunset in that area. I frequently usewww.timeanddate.com/sun/ when planning my sessions.
Lensbaby Edge 35 | ISO | 250 | 1/500 | Canon R6
Use the foreground, middle ground, and background to help tell your story. You can create depth in your photos by getting down low with your camera. This will help bring your viewer into the scene or story. A wide-angle lens can help create layers from even the smallest of elements. If you're in that stage of Fall that's approaching ugly- and by that, I mean just brown and dead, layers can help jazz up the scene. You can position yourself, so an object is close to your lens- leaves or blades of grass- and then shoot wide open. This will help blur those objects in the foreground and make the background more interesting.  
6. Location, Location, Location
If you want to be prepared, scout your location ahead of time. Find places with the most striking, colorful trees and plants. I find I often do this when I'm chauffeuring my kids around town to their different school sporting events or am out running errands. While driving, I take a quick note of parks or public fields where colors are particularly vibrant. I also pay attention to where the sun hits at different times of day in those spots to plan when I want to visit with my camera. You may also want to visit the same location at different points during the fall season to capture the changes that are taking place- from when the leaves first start to change color to when they start to fall from the branches and litter the ground below, to when the trees are completely bare.
"Fall Foliage Maps" online will help you take the guesswork out of when peak colors will show. This can vary somewhat each year depending upon the amount of rainfall and heat your region experienced. Check out https://smokymountains.com/fall-foliage-map/ or your state's Department of Natural Resource's webpage.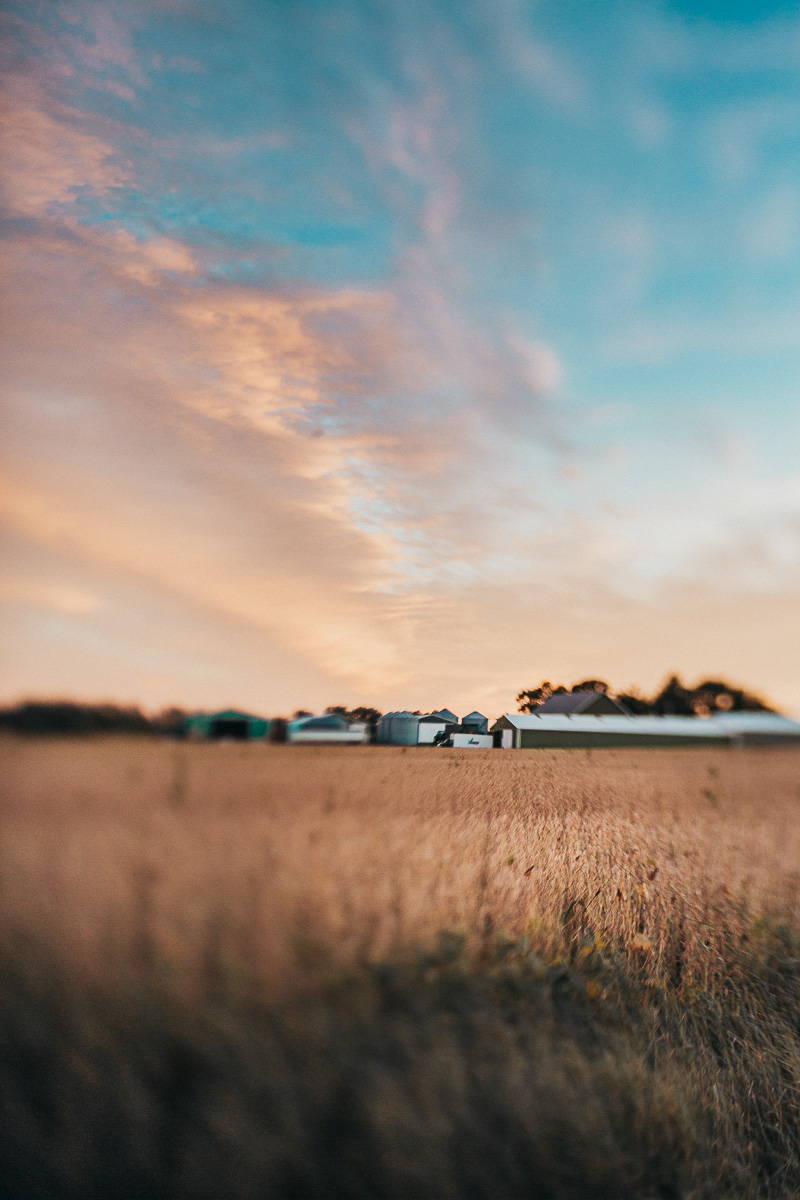 Lensbaby Composer Pro & Edge 35 | ISO | 800 | 1/400 | Canon R6
When you think of Fall, incorporate your five senses. Try to encapsulate your five senses in a photograph- how Fall feels, smells, tastes, sounds, and looks. I know when I practice this exercise, very specific things come to mind immediately. Going on nature walks with my own kids, I think of the tall, golden grass tickling our legs. The farm fields in my town take on a beautiful golden hue. A field near my house just lights up when the sun is setting low in the sky. During the summer months, this field is green- very, very green.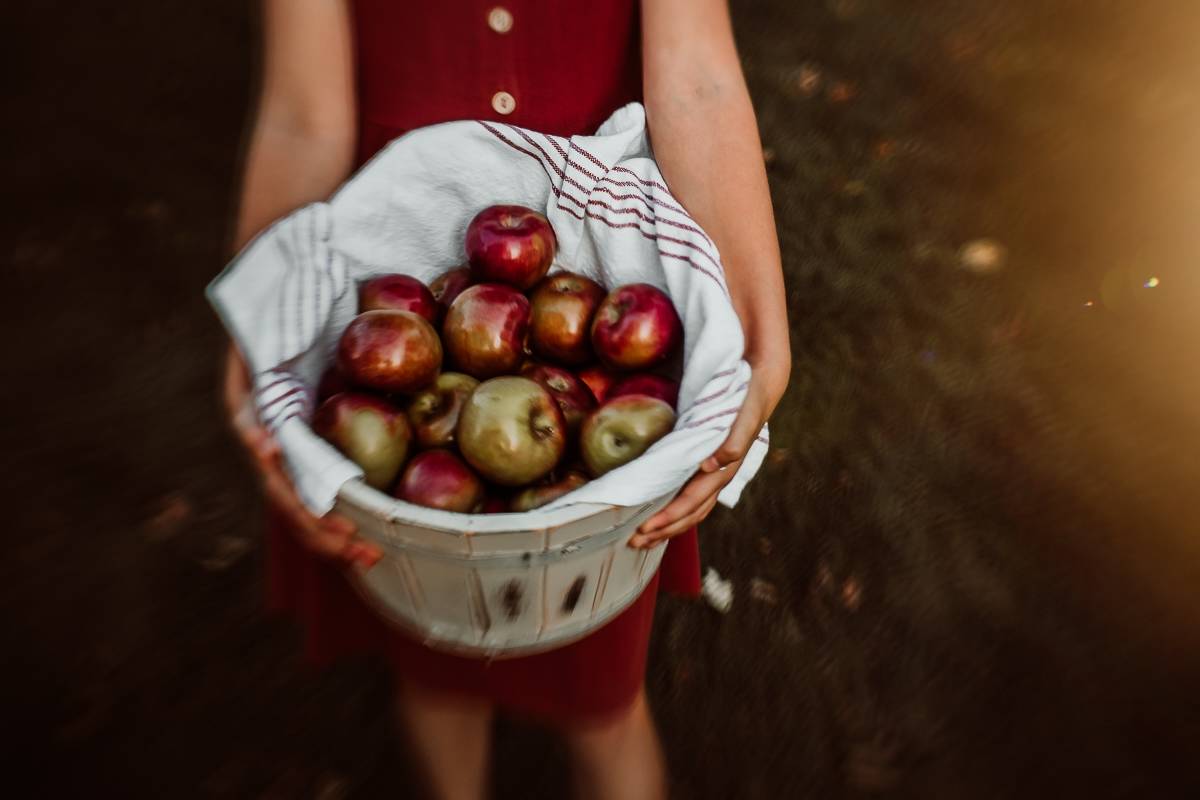 Lensbaby Sol 45 | ISO | 800 | 1/320 | Canon R6
But come September, it becomes magical. Oranges mix with yellows and gold and even a touch of pink as the crops dry out, waiting to be harvested. If I were to name the first thing that comes to mind for each of my senses, it would be crispy leaves (hear), picking apples fresh from the orchard (smell), the bold, warm tones in the leaves (see), warm, cozy sweaters and blankets in flannels and plaids (feel), and pumpkin spice lattes (taste). Now that I have these five fall objects in mind, I can set out to find a way to photograph them creatively.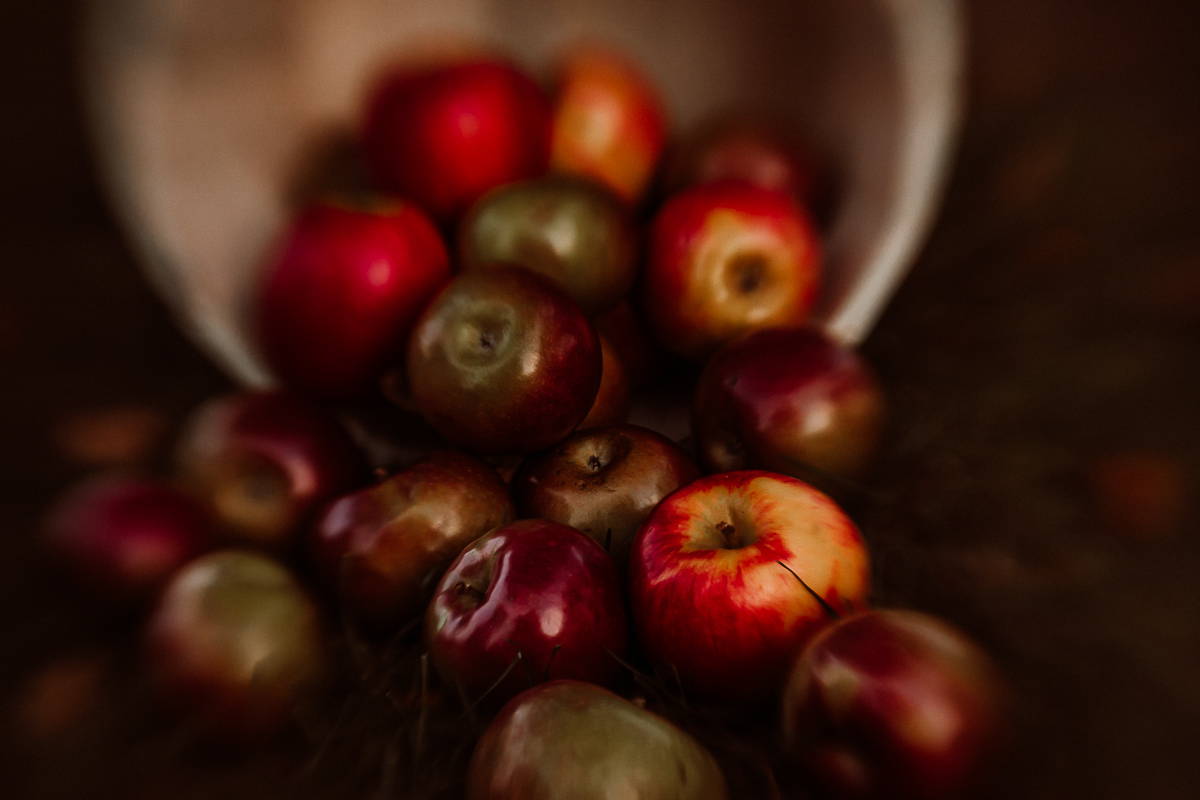 Lensbaby Spark 2.0 & Sweet 50 | ISO | 1250 | 1/250 | Canon R6
8. Fake it- "But out of limitations comes creativity." - Debbie Allen.
If you live somewhere that does not go through a true change of the seasons, don't feel like you'll be left out. There are plenty of opportunities to photograph the beauty of autumn if you have a creative eye and think a little outside the box. Do a quick brainstorming of places where you can see Fall has arrived (think of places that don't rely one bit on Mother Nature- i.e. your local craft store.) Chances are you'll find an entire aisle full of faux flowers like mums, plastic pumpkins, grasses, acorns, and wheat stems. They may not be the real thing, but all the same, colors are there! Your local grocery store or farmer's market probably stocks loads of pumpkins, gourds, corn stalks, and fresh bouquets of fall flowers. Fill a basket with colorful apples and use them as a prop in a photo or capture their details up close. You can set up your fall scene with a few inexpensive items, keeping colors in mind. Another idea is to shoot indoors. Create a flat lay of fall foods- pies, baked goods, etc. Include details to make your scene feel like the fall season you wish you had, and keep in mind how you use color in your scene for more impact!
Hopefully, these tips and tricks will have you creating and capturing the magic of Fall and seeing its beauty in a new way!
Want your shots featured by Lensbaby?⁠
Be bold and shoot extraordinary! Make sure to tag your photos on IG with #Lensbaby, #ShootExtraordinary, and let us know what gear you're using. 📸 ⁠
---
Kate Kanters is a hobbyist photographer living in WI with herhusband, four children, and two cats. She loves to document herchaotic family life, explore different genres of photography, andcreate family films. Her all-time favorite lens is the Edge 35.
Instagram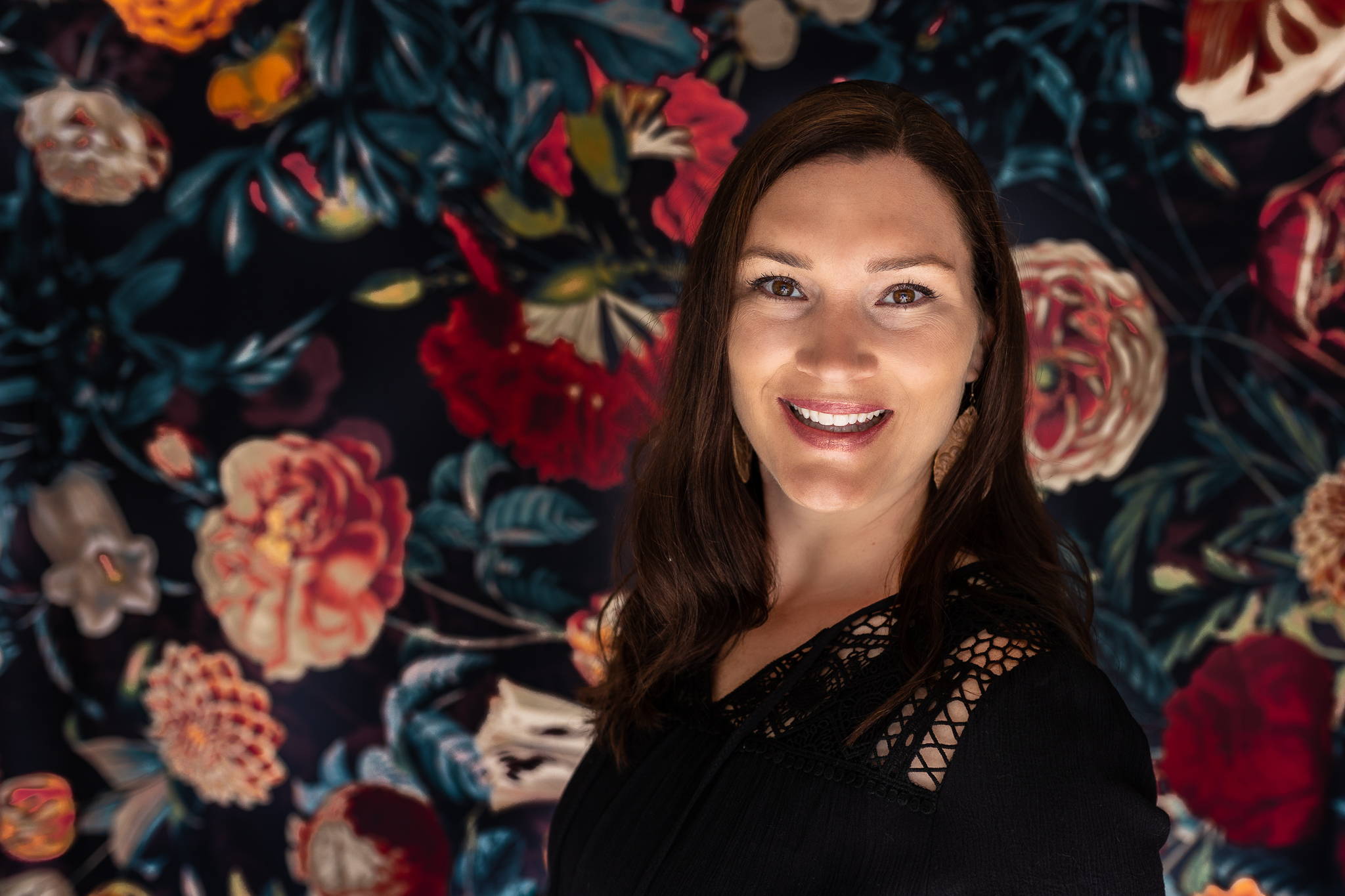 Follow us for your daily dose of art!