---
The holiday season is upon us. Although it is such a busy time of the year for many, it's also the most special time, and it's important to stop and document the season. I will share seven winter photography ideas to help capture the special memories.
We all know that the best time of year to photograph bokeh is the holidays. From our Christmas trees, menorahs, and other festive decorations, there are lights everywhere just begging to be blurred into beautiful bokeh. To create a bokeh effect, use a wide aperture (lower f stop number) and keep some distance between your subject and background lights. You can also set your lens to manual focus or use a lens such as a Lensbaby to blur the whole image. You can even get creative and make fun bokeh shapes. Here, I made heart-shaped bokeh by first tracing my lens cap onto construction paper, then cutting it out and cutting out a heart shape in the circle. Then, I taped it to the end of my Spark 2.0 with my Sweet 50 optics, and voila-every light on the tree turned into a heart. The bokeh possibilities are endless.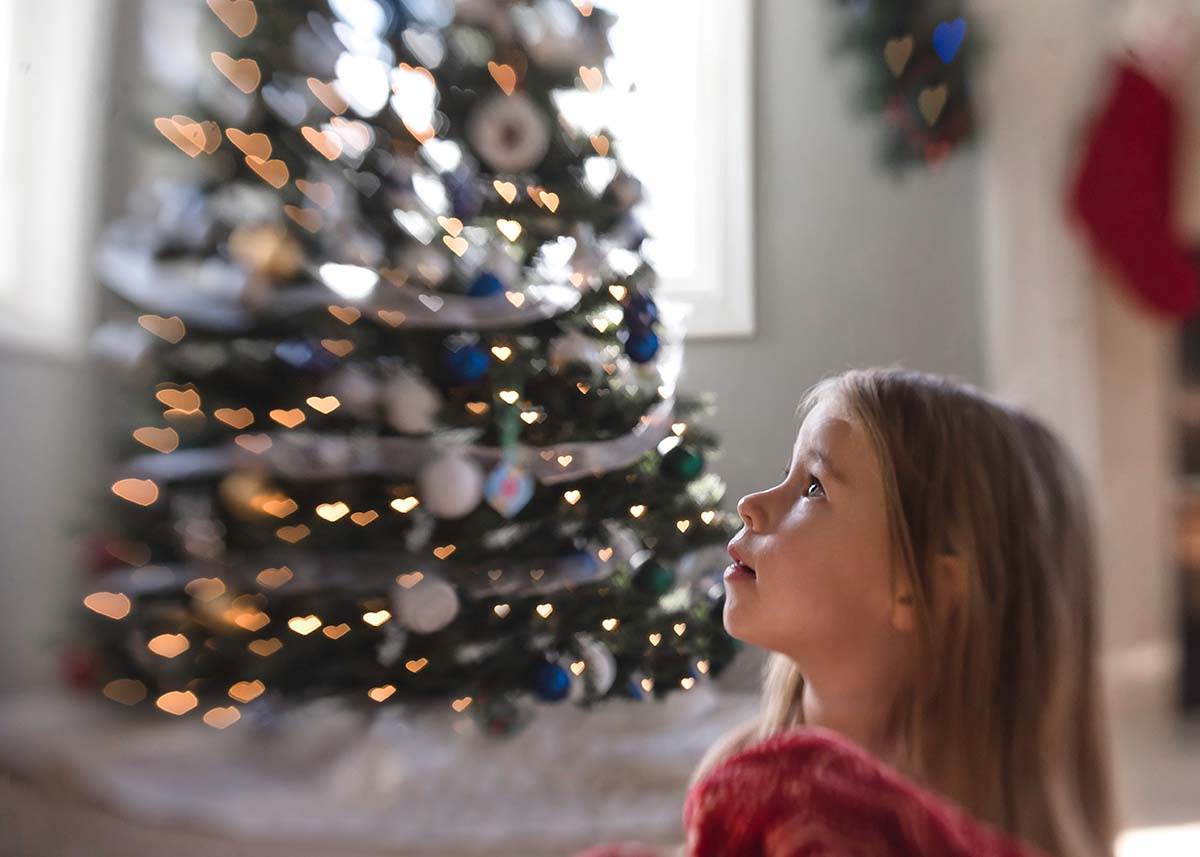 A Christmas tree can bring so many feelings of nostalgia. I remember decorating my Christmas tree as a child, and it is still an important part of the season for me. I also love how it is so fun to capture during the season. You can use it to help tell a story in the photograph or just as background decoration. My kids are fascinated with the Christmas tree, and I love capturing their admiration. Here, we had just put up our tree for the year, and my daughter was wearing a Santa hat, so I had to pick up my camera and capture that shot.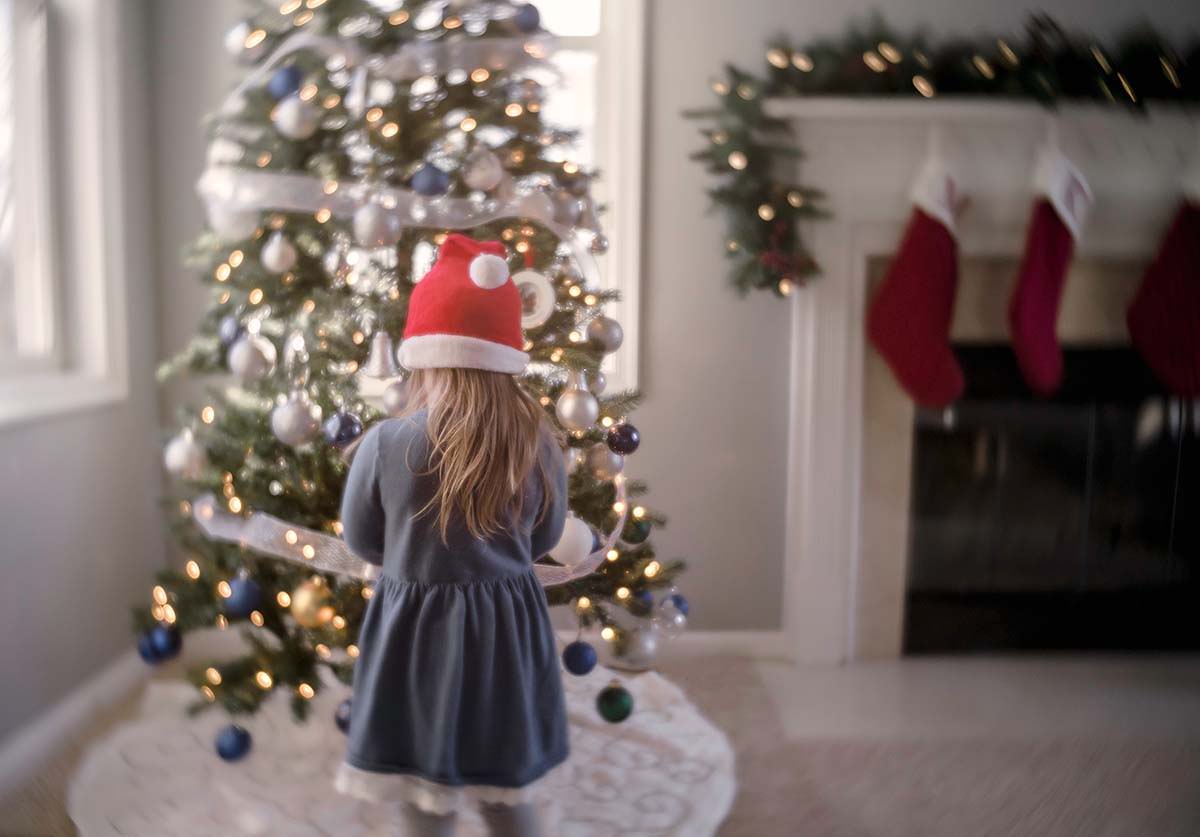 Many families have some big holiday traditions passed down from generation to generation. It is so special to document those holiday traditions. One thing that is always special for me is the day we pick out our Christmas tree, and I always need to bring my camera with me. In this photo, we had just picked out our perfect tree for this year, and it started snowing. How picture-perfect. I grabbed my camera and Omni filter and started snapping. In post-processing, I added a bokeh overlay to make it more festive. You can create your own bokeh overlays to add to any photo by laying out lights on the floor in any shape you want, turning off the lights in the room, and using manual focus, adjusting the bokeh how you want it. In post-processing, lower your shadows so that only the lights show up and drop them onto any photo in photoshop. Change your blend mode to screen and adjust the opacity to your liking.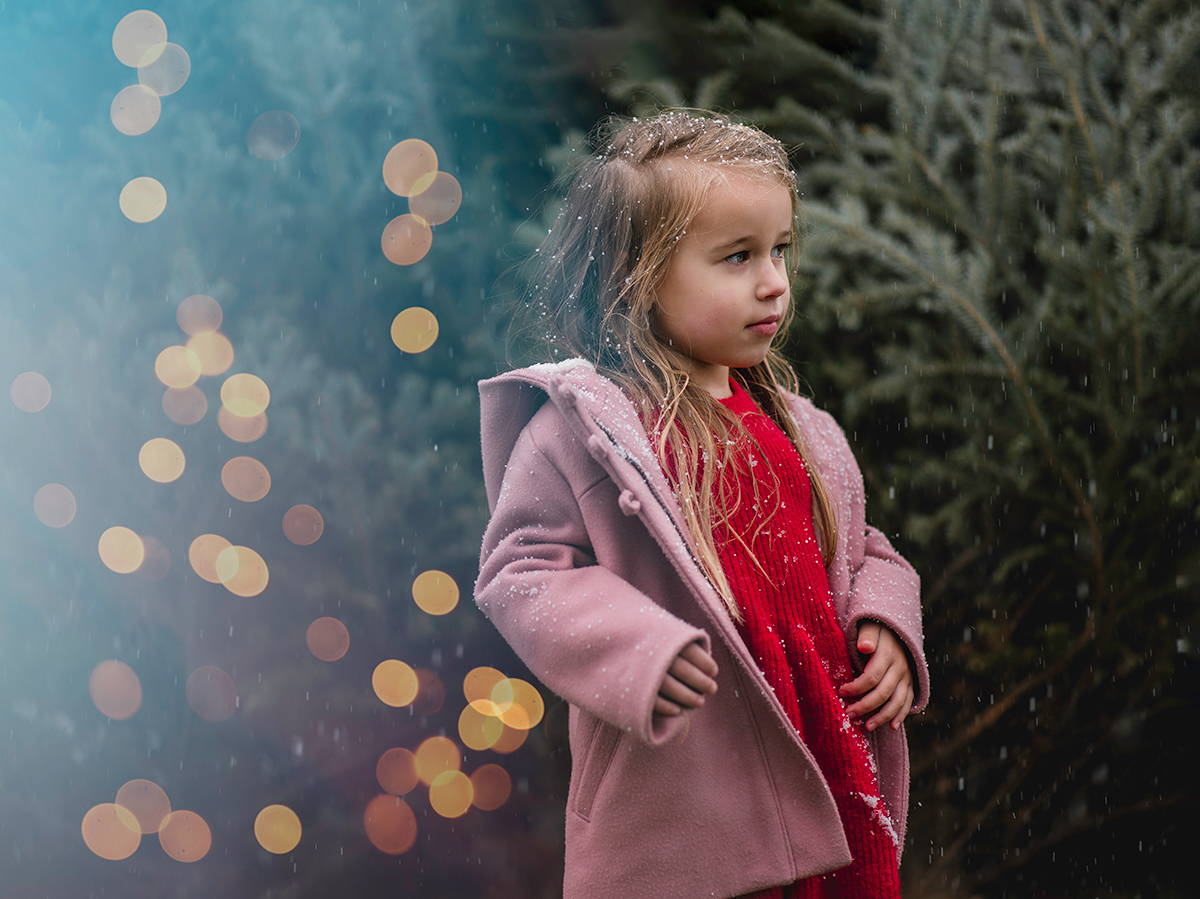 Lensbaby Sol 45 | ISO | 100 | 1/400 | Nikon Z6
Bokeh overlay made with Lensbaby Sol45

Whether your tradition is to go look at holiday lights with your family, bake holiday cookies, or go holiday shopping together, your family memories will live on forever when you document them.
There are so many iconic holiday details that we can capture that make us feel warm and cozy. One for us is drinking hot cocoa any time we spend more than five minutes in the cold outdoors. And, of course, drinking from our festive Santa mugs makes it extra special. If you celebrate Hanukah, some details you can capture the menorah, dreidel, or details of the yummy holiday food you eat. For me, it's drinking coffee by my tree in my "merry" mug and the many decorations that warm up our home this holiday season.
We love making gingerbread houses and many of them. My kids love sneaking some of the candy off of the house. I captured my son enjoying some candy, and I loved this moment.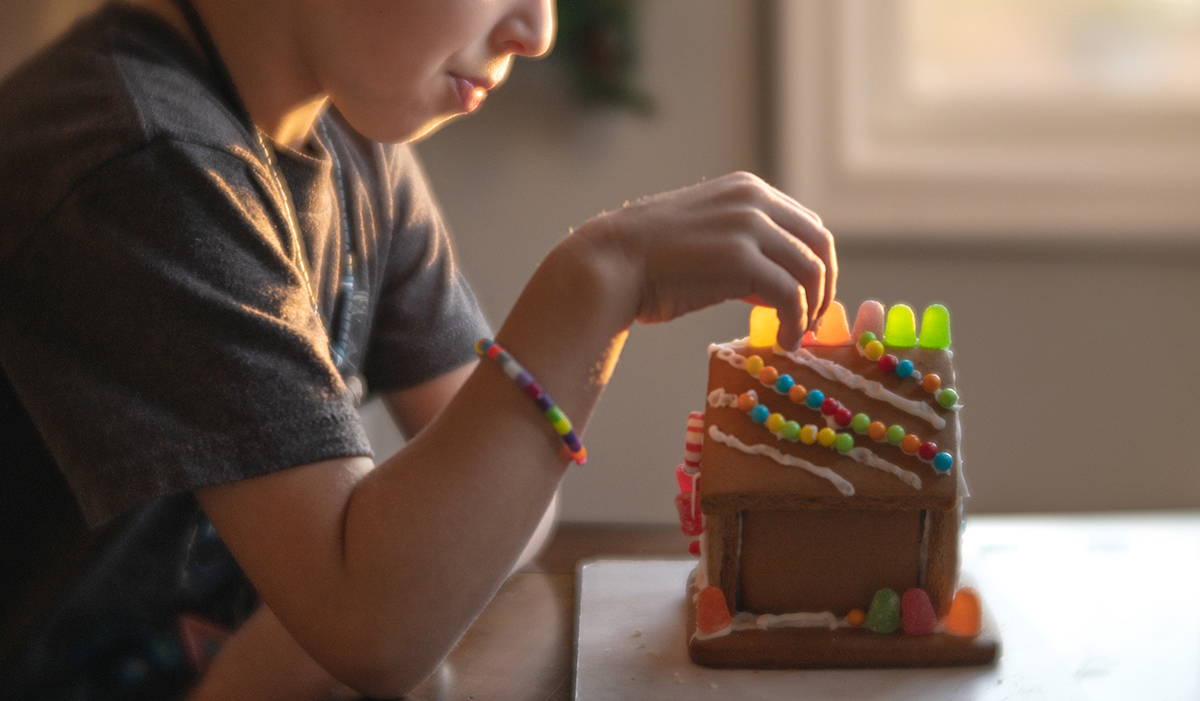 ---
"Many families have some big holiday traditions passed down from generation to generation. It is so special to document those holiday traditions."
---
I like to slow down and create a staged shoot at least once during the holiday season. I set up my guest bedroom bed with holiday lights and blankets, dress my daughter up in festive pajamas, and hope that she has as much fun as me. You can be as elaborate or simple as you want or as time allows. Usually, the setup takes the longest, but shooting, especially with kids, doesn't last too long.
Some other ideas for decorations are snowflakes, lights, and fun holiday outfits or holiday pajamas.
If you're lucky (or unlucky for some) to live in a location where you get snow, don't forget to take out your camera to document the magic of the snowfall before it melts. Even a little bit of dusting on trees can create a beautiful and picturesque scene. You can capture so many things with snow on the ground, from sledding to building snowmen to snowball fights. A tip for taking photos in the snow is to watch that you don't overexpose your highlights. Snow can be super bright, especially if the sun comes out. I like to turn on the blinks on my camera to see any over-exposed areas on my screen. I took this photo with the Lensbaby Sol45 when my kids were just running around in the deep snow. The sun was low already, which created this pretty glow.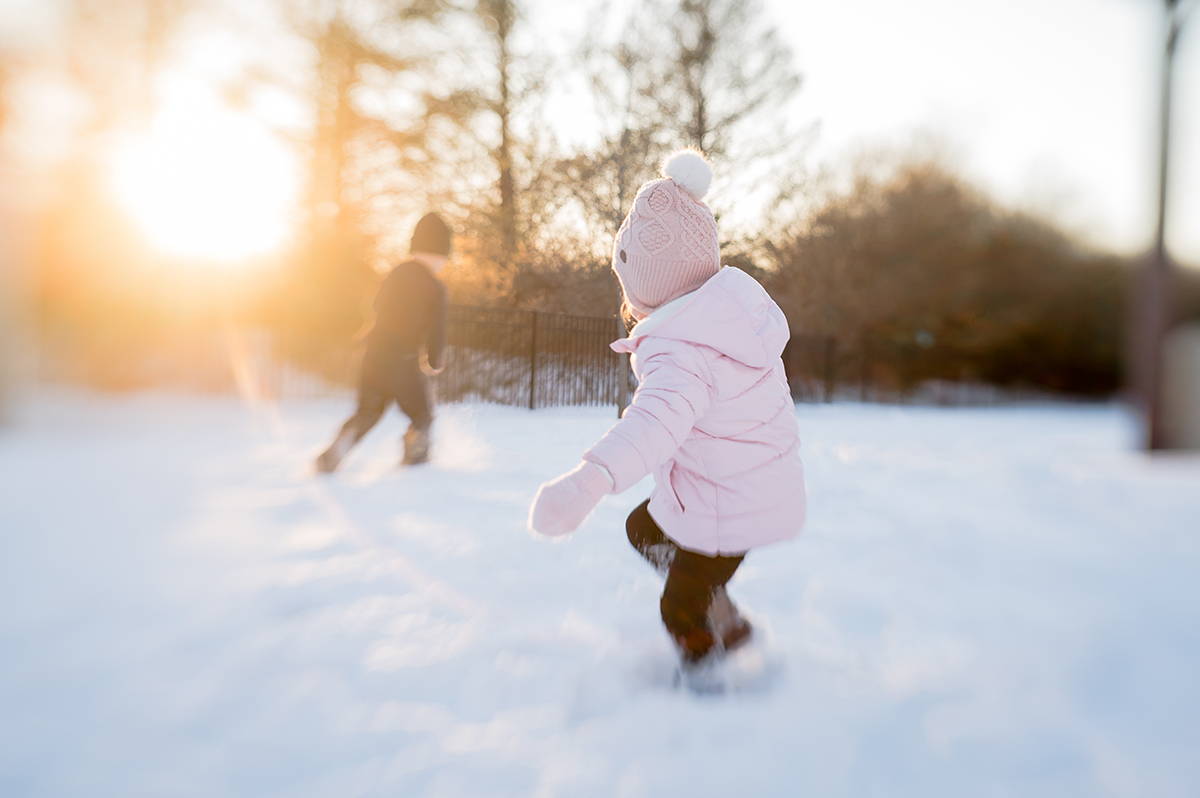 Most importantly, don't forget to have fun during the busy, chaotic, but magical holiday season. Document the fun and get creative using lights for bokeh or playing with creative elements like Lensbaby Omni filters. The Omni filters uniquely reflect light, so I wanted to experiment with them. My daughter loves to twirl, so I was happy to capture her when she was dancing by the tree. The Omni filter stretch glass made a fun effect with the lights on the tree.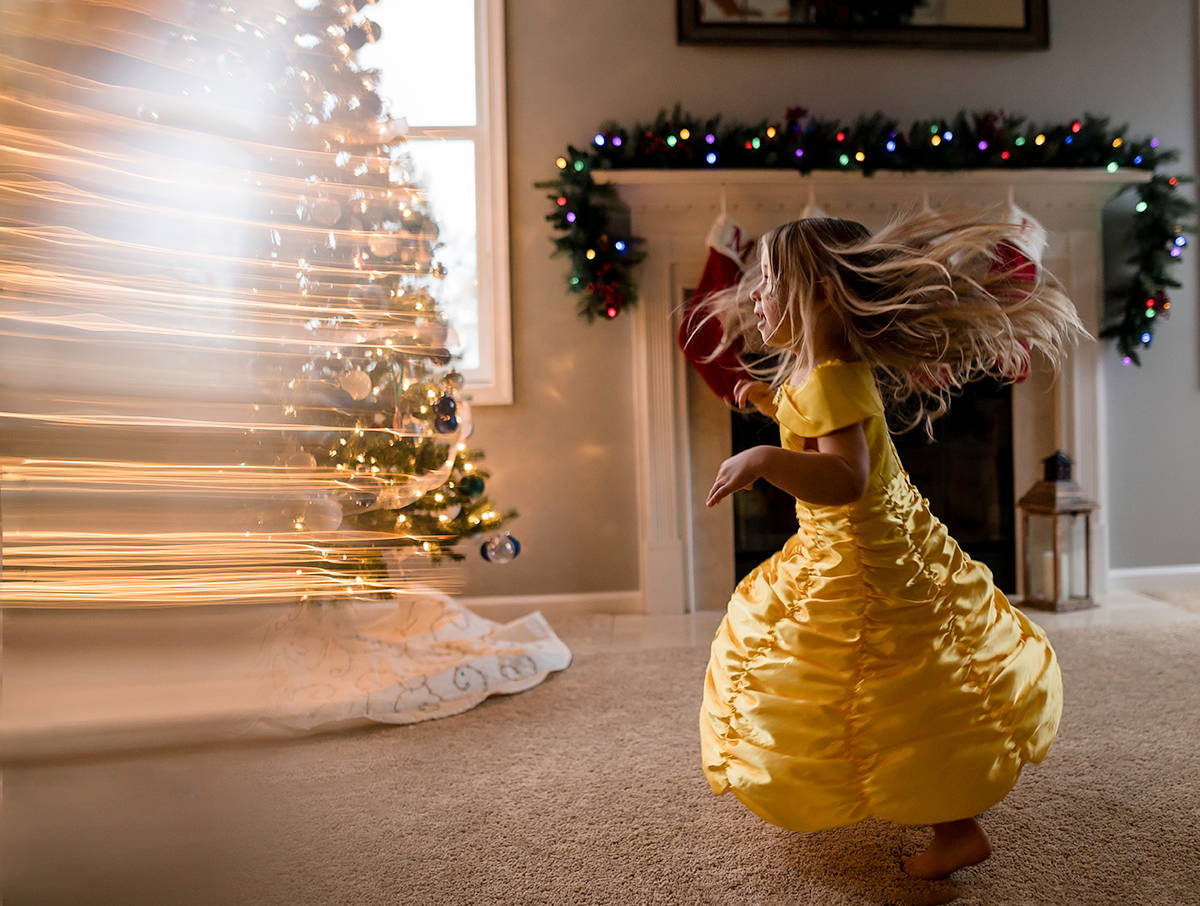 Keep your camera, favorite lenses, and creative additions like Omni filters or twinkle lights in an easy get to the location so that it's always accessible to capture a fleeting moment.
---
Want your shots featured by Lensbaby?⁠
Be bold and shoot extraordinary! Make sure to tag your photos on IG with #Lensbaby, #ShootExtraordinary, and let us know what gear you're using. 📸 ⁠
---
Magda Stolte is a hobbyist photography who likes to take photos of her kids, everyday life, self-portraiture, and nature. She enjoys the outdoorsand spending time with family.
Instagram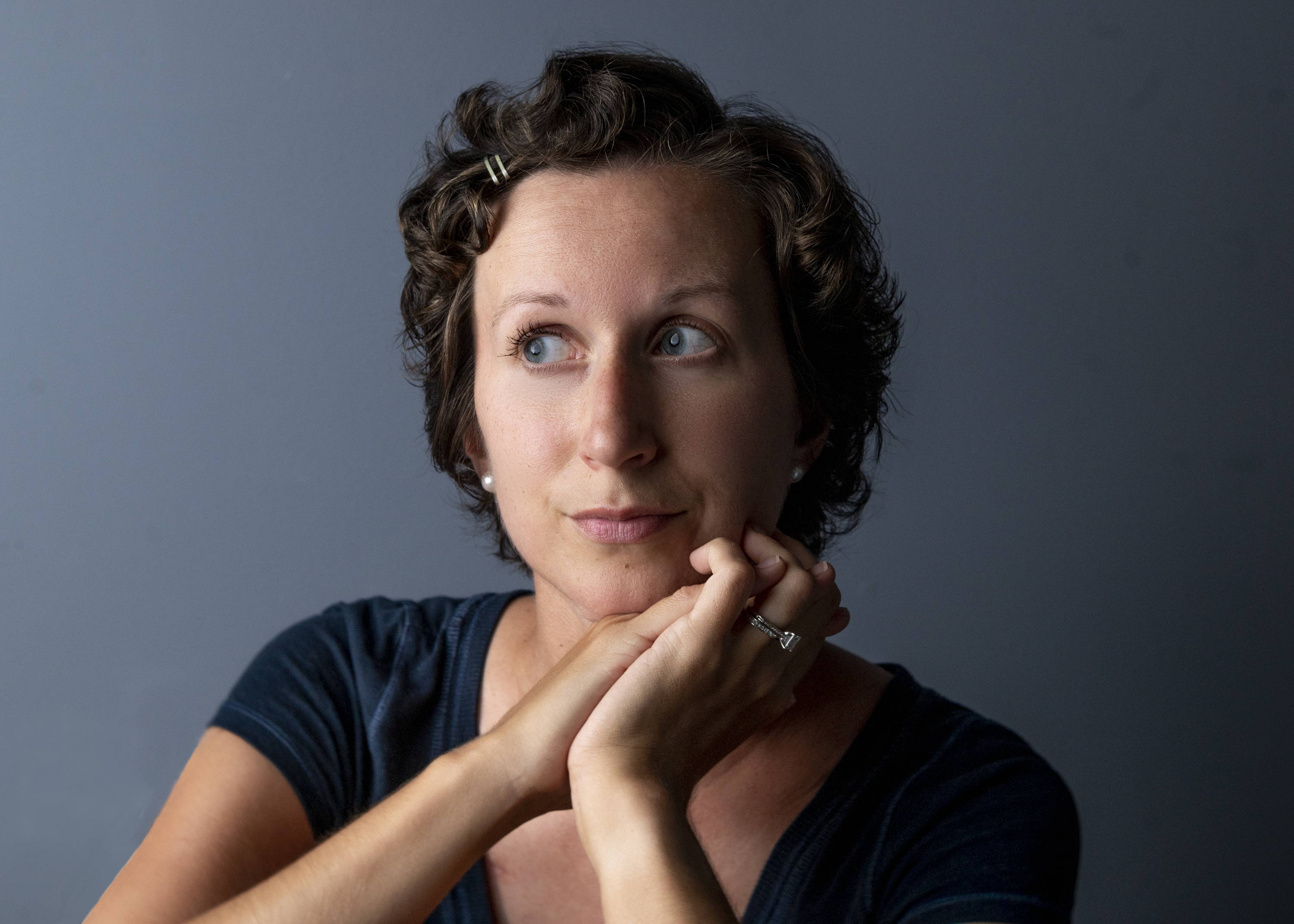 Follow us for your daily dose of art!